We told you that the Pre Orders were up for steam. And they had a date announced of Sept 8th.
Developers n-Space made it official with a press release and a new E3 Trailer as well!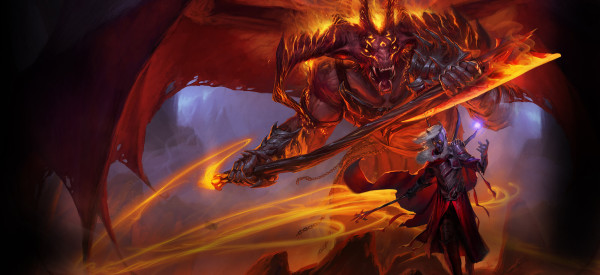 We're excited to announce that Sword Coast Legends will now officially release on September 8, 2015, while today's newly announced Xbox One and PlayStation 4 versions of the game will become available late 2015.
Looks like they had a little surprise under the shelve as well, Yes the game will be on Xbox One and PS4, which has never been announced till now.
Dan Tudge, President of n-Space and Director for Sword Coast Legends. says
We've had a clear goal since day one to evoke the classic D&D experience between four players and a Dungeon Master, and to bring back memories of the great D&D games of the past
People are really loving what they are seeing from the game so far, he goes on to say
After we announced and demonstrated Sword Coast Legends to overwhelmingly positive response at GDC, the press, partners, and fans all requested more. They wanted Mac, so we're doing it. They wanted Linux, so we're doing it. They clamored for console… so we circled back and figured out how to do it without compromising our vision for PC gamers. This addition to our existing PC, Mac and Linux versions ensures gamers will be able to have that classic D&D experience whenever, wherever and however they want.
Nathan Stewart, brand director of Dungeons & Dragons adds
We love that Sword Coast Legends delivers the authentic D&D experience by letting friends tell great fantasy stories together. With Sword Coast Legends being available on so many platforms, it doesn't matter if you game on a couch, at the kitchen table or your desk — you'll be able to join your party for some glorious D&D dungeon delves.
Here are some of Sword Coast Legends features:
• Massive story campaign
• Complex storyline weaving throughout the exotic Forgotten Realms' Sword Coast
• Deep character customization, engrossing party-based gameplay and NPC interaction
• Highly customizable combat and challenging monster encounters
• Campaign creation tools for extended multiplayer adventures
• The latest streamlined fifth edition D&D rules
• Robust post-launch module expansion program
• Epic orchestral soundtrack from composer Inon Zur
Sword Coast Legends is currently available for pre-order from Steam and the PlayStation Store at a limited and discounted price of $34.99. PlayStation 4 pre-orders also include a bonus $10 worth of Warframe™ Platinum in-game currency. Digital Deluxe and Collector's Editions, which include a tome of knowledge, cloth map of the Sword Coast, the official soundtrack, numerous in-game bonuses, starter items and DM abilities, as well as a statue of the powerful demon Belaphoss (Collector's Edition) are also available for pre-order for $59.99 and $239.99, respectively, from SwordCoast.Com
Here is a look at the brand new E3 Trailer