Looks like WOTC will have a big presence at Gen Con 2015.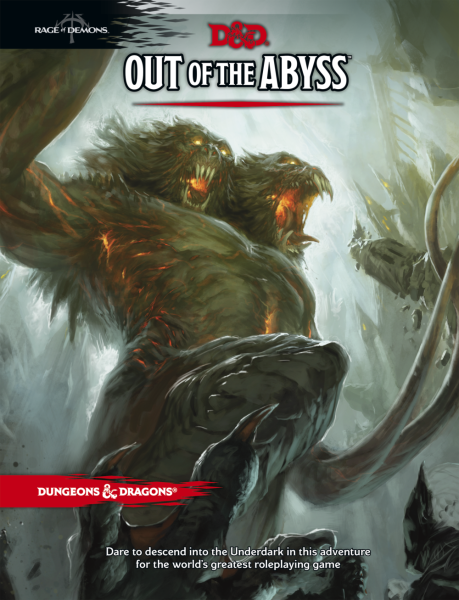 Gen Con attendees will get the chance to play content from the upcoming adventure Out of the Abyss.
Gen Con is two weeks away—July 30th will be here soon enough! Attendees of the annual gaming conference in Indianapolis will be the first to dive into the mayhem and madness of the Underdark by playing through the first of many adventures that will get the story rolling for the Rage of Demons Adventurers League season starting in September at stores worldwide.
The Hardcover book is available on Amazon for PreOrder
Here is the full list of all the WOTC Offerings at this years Gen Con
Play D&D Adventurer's League at Gen Con
You can also roll some dice with hundreds of D&D players while you're in Indianapolis. Create a new character and play in the introductory adventures to the Rage of Demons story. For existing characters, Gen Con Indy marks the debut of our first high level adventure. In addition, a massive multi-table D&D Epics adventure will be available here first.
Gen Con
Hall D
Thursday – Sunday, July 30th – August 2nd
All day! Check the Gen Con website for scheduling
DDEX3-1 Harried in Hillsfar
In the village of Elventree, near the oppressive city of Hillsfar, a recent string of strange occurrences has the locals on edge. The factions have gathered here on the borders of the forest of Cormanthor to determine what's happening. Is this the machinations of Hillsfar, or something more? Five one hour mini-adventures for 1st-2nd level characters.
DDEX3-2 Shackles of Blood
The Red Plumes have increased patrols in the region surrounding Hillsfar, and a string of disappearances has followed in their wake. Naturally, this has roused the suspicion of the factions. Join your factions and find out the truth behind the missing farmers. A four-hour adventure for 1st-4th level characters.
DDEX3-3 The Occupation of Szith Morcane
Agents of the fire giants of Maerimydra, a city in the Underdark, have overtaken the drow outpost of Szith Morcane. The factions seek out adventurers to free the outpost's leaders for questioning on the giants' activities. Can you extricate them before it's too late? A four-hour adventure for 5th-10th level characters.
DDEX3-4 It's All in the Blood
Rumors of faceless demonic creatures have been steadily rising in the Hillsfar region, and it is said that far below the surface of Faerun, nestled in the bowels of the underdark, ancient terrors are stirring.  The imperiled drow of Szith Morcaine have extended an intriguing offer, but can the drow be trusted, and for how long? An eight-hour adventure for 11th-16th level characters.
DDEP3 Blood Above, Blood Below
In two different arenas, the call for blood has been sounded. The five factions now seek out bold adventurers willing to brave death in order to draw attention away from Szith Morcane, and in so doing allow a small group to infiltrate the drow outpost and return it to the hands of the drow. What role will you play in this deadly game? A special four-hour D&D Epics adventure for 1st-16th level characters.
And if you would like to jump in and participate in some adventures from the previous season:
Past adventures from the Elemental Evil season are available on Thursday, including the D&D Epics adventure DDEP2 Mulmaster Undone.
I will be playing in a few of these games! So I can't wait to jump in and experience this new storyline first hand.
But wait! There is still more!
Ask the Sages Office Hours!
Mike Mearls and Jeremy Crawford, two of the minds behind D&D fifth edition, will be on hand to answer your questions, regale you with stories of the development, and generally be awesome. They'll be in the D&D organized play area in Hall D at a special table each day at the show from 3pm – 4pm.  Drop by to talk about D&D with the people who make it!
Office Hours with Mike Mearls and Jeremy Crawford
Thursday – Saturday, July 30th – August 1st
3pm – 4pm
I'm am planning on stopping and see about talking to both of these fine Gentlemen,  And time willing try to get a little interview.
And of course, there are the Ennie awards
he Ennie Awards are Friday night and we're ecstatic to have several D&D products up for awards this year.
Hoard of the Dragon Queen, a collaboration with our friends at Kobold Press, is up for Best Adventure.
Michael Komarck's stunning depiction of Tiamat earned a Best Cover Art nomination for Rise of Tiamat.
A literal horde of artists, ably directed by Kate Irwin, earned a Best Interior Art nomination for the Monster Manual, standing alongside that book's other nomination as Best Monster/Adversary product.
The Basic Rules for D&D earned nominations for Best Electronic Book and Best Free Product.
The D&D Starter Set is up for Best Family Game and Best Production Values.
The Player's Handbook is nominated for Best Game, Best Rules, Best Writing, and Product of the year.
A whole bunch of our licensing partners also earned nominations. WizKids is up for Best RPG Related Product and Best Miniature Product for the Temple of Elemental Evil board game and D&D Icons of the Realms: Elemental Evil Boosters respectively. The D&D Complete Core Monster Pack for Fantasy Grounds earned a nomination in the Best Software category for SmiteWorks.
2014 was a great year for D&D and it's great to see so much of our hard work up for recognition at Gen Con's premier awards event. We can't wait to celebrate the entire year of gaming at the Ennies!
The Ennie Awards Ceremony
Union Station Grand Hall
July 31st, 6pm bar opens & pre-entertainment, 8pm ceremony officially starts.
As stated before, we will be covering the awards, I plan on "live tweeting" as the event is going on. We will also have a full write up after of course.