Listen And Download Link
Podcast: Play in new window | Download (90.3MB)
For our 50th episode, we had a full house of guests. All 3 Damsels Of DDO Sahba Jade, Lessah, and Mythery, Also Bonnie Bew and we were joined by Community manager Cordovan. We talked about the changes that are proposed for the Deepwood Stalker Ranger. We took a trip down memory lane with some of the favorite moments from listener suggestions. We find out that Drac had to punish his dice for failing him in his Ravenloft campaign. Also, during our week in DDO Cordovan drops a few news bombs on us! Breaking news you heard here first!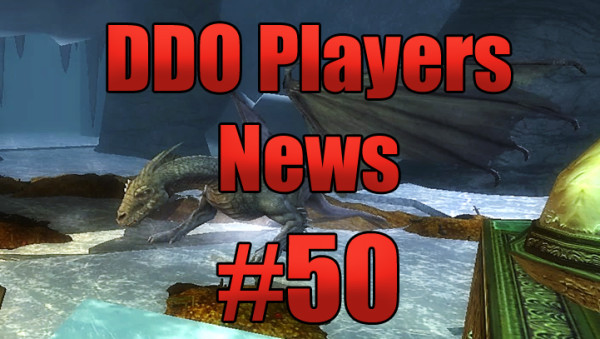 Game News
Ranger: Deepwood Stalker Changes
Store Sales
Free Sample Of The Earth September 11th – 17th
Greater Remove Negative Level Potion Use Coupon Code 81DDC 1/Account
40 % OFF
Augments
Jeweler's Tool Kit
Cosmetic Armors
Cosmetic Hats, Helms, & Headwear
DDO Players News
Favorite Moments From the past 50. Will play the clips after we announce them.
Mookie Blaylock Said
1 – The Magic Marker Bikini Story
2 – The Time that Drac talked about his Ravenloft game and how the party climbed down the mountain face instead of going in the castle!
Bonnie Said
I'm re-listening to everything and making notes, so there will be more, but two of my absolute faves are the Ep. 25 Word from Our Sponsor! Blood Tide Pirate Assassination Hotline!
AND
Episode 49: 18:41-21:25 Draculetta's misery that he didn't wipe the party in his Ravenloft campaign was awesome.
DDO Players Poll – Are You Looking Forward To Sword Coast Legends?
Erdrique
Sword Coast Legends sounds like a fun and interesting game, but I just don't have the time to devote to another game. DDO just takes the majority of my time 🙂 and the little bit of extra time I have goes to Neverwinter Nights II.
Quijonn
Other: I'll pick it up on Steam when it's on sale but not been caught up by any of the promotional hype around this one. Now Fallout 4 on the other hand …. High expectations for that one that will almost certainly eat into my DDO time for a while
DDO Players Screen Shot Of The Week #32
DDO Players (Bonus) Screen Shot Of The Week #33
News Beyond DDO
Rage of Demons DnD Minis Now Available From WizKids
MMO Reporter Sword Coast Legends Pax Coverage
Bonnie would like to mention:  Wizards of the Coast has a 48-hour Twitch marathon coming up Oct 2nd – 4th. Last year, teams from WotC played D&D for twenty-five hours straight and raised over $85,000 for the kids at Children's Miracle Network Hospitals. It was fricking hilarious and adventure-filled! This year, their goal is $100,000, and they're almost doubling the length of the game! If you're interested in watching the Twitch tabletop excitement, make sure you follow WotC on Twitch!
http://www.twitch.tv/wotc_dnd/
You can find out more juicy details on the WotC website, including a schedule of who is playing and DMing when. Not to put anyone into a tizzy, but Chris Perkins is currently scheduled to DM Sunday Oct. 4th from 8am-noon PST – (That's 11am-3pm EST). Rodney Thompson is also coming back to DM on Friday night and Keith Baker will be playing on Saturday  8am-noon PST!
Links for show notes: http://dnd.wizards.com/articles/features/dnd_extralife2015
This is donate to Extra Life sponsoring Chris Perkins: http://www.extra-life.org/index.cfm?fuseaction=donorDrive.participant&participantID=163138
Bonnie – All my fave moments were in the bloopers for Ep 31 and 48.
In Ep 31 1:06:37 – 1:07:24 I'm trying to remember the name of a classic D&D module, I'm the typical barely comprehensible me: "It's some Aztec-y thing." and Pineleaf drops in a 'Would you like some Grey Poupon?' voice as if he's opening up Masterpiece Theater, "Oh yes, I played that the first year I went to Origins. The Hidden Shrine of Tamoachan. I have a copy right here."
Ep 48: 46:10 – 47:02 when we were talking about taking DDO screenshots. Also, in the actual show when I'm freaking out because I can't remember the name 'Lady Vol' and you guys do an epic job dealing with my runaway train. It ends with some thing like me saying, "It's Lady Vol! I'm losing my mind!" and Pineleaf calmly says, "All right then" and closes out the show. He can transition through anything!
Episode 18 of DDO Players news was 'Bacon Beats Everything' while Episode 48 was 'Chris Perkins Trumps All.' So what would happen with DM Chris Perkins versus Bacon in a showdown?
Bonnie's Arraetrikos/'The Devil's Details' rant. Well, it's more like romantic issues.
Week in DDO
Drac Week
Rogue LVL 15
House Kundarak
Caverns Of Korromar (On Elite)
Ranger Lvl 15 With Pineleaf
Eveningstar
Escape Plan
Shadow of Doubt
Wheloon Prison
Pineleaf Week
On Artificer 15 with Drac
Eveningstar
Escape Plan
Shadow of Doubt
Wheloon Prison
Paladin (PD) – Level 3-4
The Cerulean Hills
Where There's Smoke…
The Captives
Harbor
Protect Baudry's Interests
Stop Hazadill's Shipment
Retrieve the Stolen Goods
Refugee Toll
The Waterworks
The Kobolds' Den: Clan Gnashtooth
The Kobolds' Den: Rescuing Arlos
Venn's Trail: Clan Tunnelworm
Venn's Trail: Venn's Fate
Sahba Jade Week
Flagged For The New Raid
Lessah Week
PD Pally To 22
Mythery Week
Flagged For The New Raid
Bonnie Week
Took advantage of the 30% heroic XP bonus! Played Zoesha, who was still a level 15 Bladeforged Paladin/TWF Tempest. I did the Lordsmarch Plaza chains, Sands quests to flag for the Demon Queen Raid, a little Gianthold, and the Trials of the Archons quests on heroic elite. I hadn't done these on heroic, and by the time I did I was lvl 17, and pretty cocky about how spectacular I was. Those Archons hurt my feelings!
Cordovan Week
Wayfinder- In the Belly Of The Beast
Donations
To help support DDO Players, simply go to the donation page where you can support The Players Alliance on Patreon.  There you will find rewards including a mention on DDO Players News Or Even be able to guest host with us!
Feedback
iTunes Reviews
This week we did not receive any reviews but would love your support!
Featured Comments
We had some comments on DDO Players News Episode 49 Swan Diving Drizzt
Bonniebew
OMG! I just had a thought about the last Acquisitions Incorporated at PAX Prime and the Rage of Demons trailer. Chris Perkins(!!) highlighted how the WotC campaign is going into the Underdark with Lessah's boytoy Drizzt and there were deep gnomes/Svirfneblin in it! Which reminds me of something Sev said on the forums (Who am I kidding? I can't remember things! I'm listening to DDO Players ep 19 right now, which is telling me what Sev said on the forums months ago, and he said "deep gnomes.") Gnomes! Gnomes! GNOMES!!!!!!!
PS. You can totally use dungeon traps to damage monsters. A classic example is Kobold's New Ringleader. Once you've pulled runes to open the door. Inevitably, one kobold will run up the corridor to hit the alarm gong, and they always trigger the fire trap and get roasted!
P.P.S. Next week's poll should be about which module Drac should use. "Let's Kill Drac's Friends!"
Quijonn
Has Pineleaf managed to catch up with Acquisitions Incorporated and The Stormreach Campaign yet? Most traps kill mobs – is one of the cool tactics you can employ – the exception that springs to mind is the force bridge in part 3 & 4 of the Grey Moon chain which SHOULD kill the ogres but doesn't. Traps killing mobs is definitely WAI.
And an extra thanks for introducing me to Titansgrave – can't remember exactly when it got mentioned but took the time to look it up and been really enjoying it.
Emails
This week we have no emails.
Contact Us
Email us!
podcast@ddoplayers.com
Follow us on Twitter!
The Players Alliance @PlayersAlly
DDO Players @DDOPlayers
Draculetta @Draculetta_72
Pineleaf @PineleafNeedles
Final Thoughts
The Players Alliance LIVE Shows
Mondays at 8:30 p.m. Eastern – DDO Players News
Saturdays at 8:30 p.m. Eastern – LOTRO Players News
Join Us For Our Live Shows! ddoplayers.com/live/
Next Monday night, our guest will be Even Note!