The Current Release Notes are up  for the new build that is on Lamannia.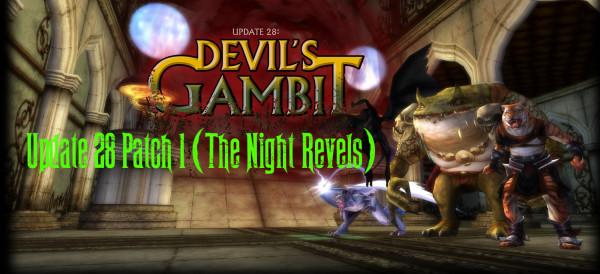 *NOTE* All of this is subject to change!
Of Special Note:
The Night Revels!
The Night Revels is a new seasonal event in Dungeons & Dragons Online. Begin your festivities in Delera's Graveyard when the event is active! Defeat monsters in Delera's Graveyard to collect either Darkest Chocolate or a special key that will allow you to access one of the four Night Revels-themed dungeons! Complete the dungeons to collect quest-specific ingredients that, combined with the Darkest Chocolate you get from defeating monsters in the Graveyard, can be used to acquire new Night Revels items!
News and Notes:
Combat
Fixed an issue that could cause animation "popping" when wielding two weapons.
Enhancements
Ranger Tempest enhancements now have their proper level requirements.
Ranger Deepwood Stalker's Improved Weapon Finesse now works for thrown weapons.
Items
The Devil's Handiwork set description now correctly states that it is granted when wearing five items, rather than six.
Golem's Heart has had its 2% chance to proc returned, and its description updated to match its functionality.
Glamered Weapon Auras now work properly on the Staff of the Petitioner, Dreamspitter, and Copper Ingot Arcanum,
The Traveler's Terrific Trunk is no longer an ingredient.
Monster Manual
Hellhound Monster Manual deeds no longer say they require Dragon kills to complete.
Quests and Adventure Areas
Some monster damage and monster ability DC's have been scaled down in the Temple of Elemental Evil.
Fortis will no longer mistakenly go back into his protective bubble in the quest Tavern Brawl.
UI
Doubleshot, Spell Critical Chance, and Spell Critical Multiplier now properly update on the Character Sheet without needing to be closed and re-opened.