With this post, we are going to open up a new category and segment to the Website/Podcast. Tabletop games.
Yes, there are games beyond DnD 🙂 We covered a bit of this during our Gen Con coverage this year. We hope you enjoy this new part of the site.
Gale Force Nine, Battlefront and BBC to produce Doctor Who board game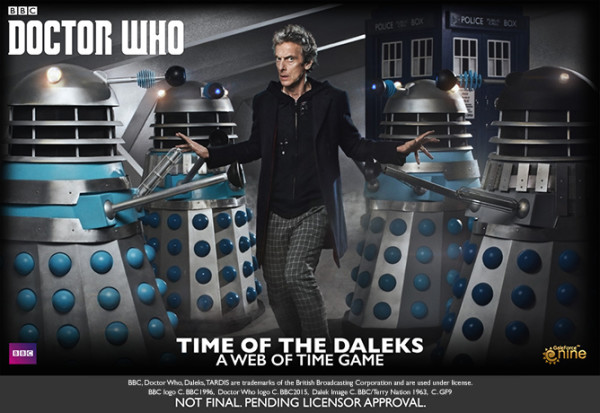 For over fifty years the Doctor and his companions have taken viewers on a journey into the unknown in Doctor Who. Now, Gale Force Nine is partnering with BBC Worldwide North America to bring the Time Lord's adventures to life in a new series of hobby board games based on the legendary sci-fi television show.
Doctor Who: Time of the Daleks lets you be the Doctor. As you can expect from the name, your quest involves defeating one of the Doctor's greatest rivals, the Daleks. Succeed and the universe is saved! Fail and the Doctor is removed from history entirely!
John-Paul Brisigotti, CEO of the Battlefront Group says,
"We are very excited to be able to immerse ourselves into this iconic material and make the game for a show that has shaped generations of viewers,"
He goes on to say
"Having a serious love of the property is how we make our games, and the Whovians in our design teams are creating something truly unique with this new series."
Gale Force Nine will be releasing more details about the game in the coming months. You will be able to learn more at doctorwho.gf9games.com and follow the game's development at www.facebook.com/galeforcenine