Tolero posted about the new store, that is launching today as part of Update 28 Patch 1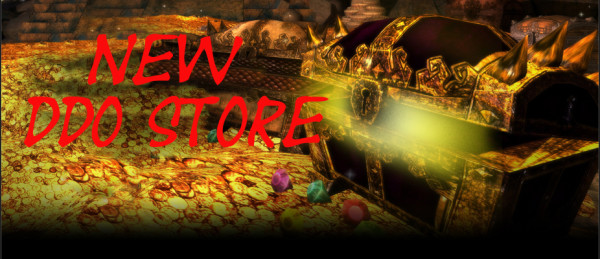 In addition to today's game patch, today's down time will allow us to open the new DDO Store. You can find out more about the store design and features by clicking here. To celebrate the new Store we'll also be offering a coupon for some free gifts, so we'll post that coupon announcement later today before the worlds open (spoiler alert, it involves two free +5 hearts of wood). . .
Here are some extra details about how your transactions will be handled in the new Store:
Xsolla, our new partner, will host the storefront and will be sending receipts for all transactions
Turbine will continue to process credit card payments just like in the old store
Emergent, our other new partner, handles processing for all alternative payment methods such as Sofort Banking and Paysafecards
As always your personal information is kept confidential and meets all PCI reporting standards across all 3 companies
As a reminder:
The "bookmarks" feature has become the "favorites" feature. You can add any item to your favorites by clicking the Star next to the item description. You can access your favorites list by clicking the star icon in the upper right corner of the Store. Unfortunately the old "bookmarks" were not able to be carried over from the previous eStore.
Also note that some purchase history from the old Store may not yet appear in your "History" page. We were able to keep that history and will be importing it into the new Store soon for you.
The "filter for character" option is not yet available in the new Store. However, any item that your character is not qualified for due to race/class/level restrictions will be visible, but with a small "Attention" alert above the item price to indicate that the item might not be appropriate for that particular character, though you are still able to buy the item. This also means that any items currently unavailable due to active VIP status are not visible at all (in the previous Store you could not purchase them, but could still view the item).
KNOWN ISSUES:
While running DDO through Steam, you can't currently update your credit card information through the new store. Instead, please update your credit card in Steam directly, designate it, and then make purchases.
The "Heroic Learning Tome Upgrade" may not display in the Store for some characters.