We cover Update 31 Release 1 Notes, Rage Of Demons lands on Sword Coast Legends, Gen Con news, and is Hasbro planning an convention?
Audio Only Listen And Download Link
Podcast: Play in new window | Download (41.2MB)
YouTube Watch Links
____________________________________________________________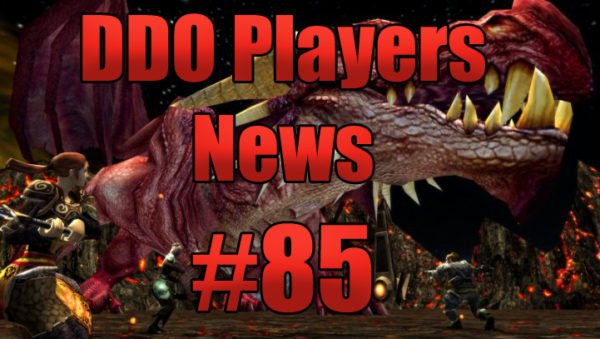 Show Notes
Game News
Update 31 Patch 1 Release Notes
DDO Digital Sales Suspended Until June 1st
Store Sales
Free Sample Of The Week May 20th – 26th
Lesser Slayer Count Boost Use Coupon Code SLYRBST 1/Account
20 % off
True Hearts of Wood
All Lesser Hearts Of Wood
Quest XP Elixirs
Healing Items
SP Potions
Double Bonus Points!
Now through May 30th
DDO Players News
DDO Players Screen Shot Of The Week #50
From The Dungeon
52% of Gen Con's Industry Insiders this year are female.
"Rage Of Demons" Free DLC Comes To Sword Coast Legends
On The Table Top
One Deck Dungeon: A First Look
Is Hasbro Planning Its Own Convention?
Week in DDO
Drac Week
Cannith
Rogue Lvl 7 (With Pineleaf)
Temple of Elemental Evil, Part 1
Wayfinder
Ranger Lvl 8 (Reached) *Hit 100 Favor*
Harbor (All On Elite)
Bringing The Light
Harverdasher
Irestone Inlet
The Kobold's New Ringleader
The Smuggler's Warehouse
Kobold Assult
Khyber
Ranger/Rogue Lvl 7
Harbor
The Miller's Debt
Home Sweet Sewer
Harverdasher (Elite)
Sword Coast Legends
Rage Of Demons Story
Pineleaf Week
Gnome warlock Level 7 (with Drac)
Temple of Elemental Evil, Part 1
Elf Warlock Level 7
Temple of Elemental Evil
Another try at Part 1.
Could not charm the earth elemental during the boss fight and the club eventually killed it.
This was a quick run: 45 minutes from entry to killing the boss.
Donations
We currently have 25 supporters on Patreon. If you would like help support DDO Players, simply go to the donation page where you can support The Players Alliance on Patreon.  There you will find rewards including a mention on the podcast of your choice, or even guest for an episode on DDO Players News.
Feedback
iTunes Reviews
This week we did not receive any reviews but would love your support!
Featured Comments
The Cleric in the tabletop party left a comment on Episode 84 Drac's Bucket List
So is Strahd's revenge on your bucket list?
Emails
This week we have no emails.
Contact Us
Email us!
podcast@ddoplayers.com
Follow us on Twitter!
The Players Alliance @PlayersAlly
DDO Players @DDOPlayers
Draculetta @Draculetta_72
Pineleaf @PineleafNeedles
Join Our Steam Group!
Final Thoughts
The Players Alliance LIVE Shows
Mondays at 8:30 p.m. Eastern – DDO Players News
Saturdays at 8:30 p.m. Eastern – LOTRO Players News
Every other Saturday after LPN – Tales of the Free Folk
Last Friday of each month at 8:30 p.m. Eastern – LOTRO Academy: After School
Join Us For Our Live Shows! ddoplayers.com/live/