We told you a few months ago about the new expansion for Cash 'N' Guns Team Spirit was coming out.
AsmodeeNA is pulling back the covers a bit and showing off a bit what we can expect.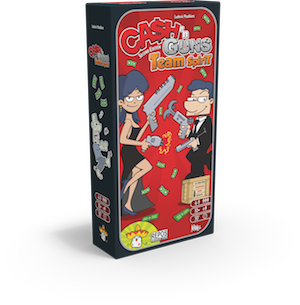 Team Spirit brings to the game some long-awaited rules for team play, which can be used in games of six to nine players. That alone adds new ways to conspire, bluff, and outwit your opponents—and enables you to trade Loot, Ammo, Powers, and Surprises for the first time.
It also introduces new guns, Powers and Surprises, as well as a lineup of greedy Mercenaries with loose morals and no loyalties that your team can recruit.

There will be some new powers you use to help you get more loot of course
This should mix things a bit I'm sure! You can pre-order the expansion right now, and if you planning on hitting Gen Con in Aug, you can also play it or pick it to take home.