Patrick from DDO Cast joins us this week, as we talk about how collectables will work in Update 32, Latest Tabletop News, and Patrick manages to shock Drac
Audio Only Listen And Download Link
Podcast: Play in new window | Download (74.5MB)
YouTube Watch Links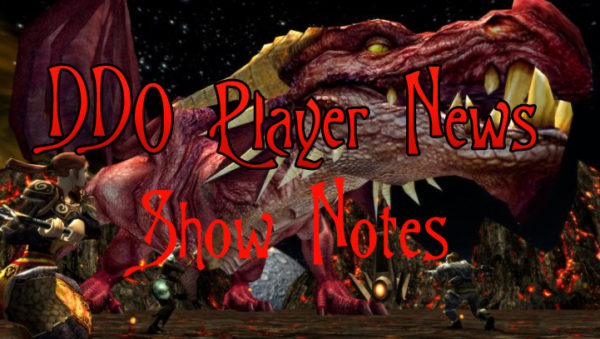 Game News
Collectables And Cannith Crafting changes
Store Sales
Free Sample Of The Week  Aug. 26th – Sept. 1st
Long Lasting Potion of 10 Magical Resistance x5 Use Coupon Code V3RYMAGICAL 1/Account
20 % OFF
Astral Shards
Guild Renown Elixirs
50 % OFF
Guild Charters
Guild Airship Beacon
DDO Cast Talk With Patrick
DDOCasplat!
DDO Players News
DDO Players News Podcast Celebrating 100th Episode!
DDO Players Reviews The Goonies Adventure Card Game
From The Dungeon
PAIZO Announces Bestiary 6 For Pathfinder RPG
Acquisitions Incorporated – PAX West 2016 Animated Intro
On The Table Top
WizKids Brings Us Rock Paper Wizard
WizKids Plans Two Versions Of Assault Of The Giants
River Horse Gives Us An Update On Jim Henson's Labyrinth The Board Game
Vale Of Magic Expansion Coming From Alderac Entertainment Group
Week in Gaming
Drac Week
Cannith
Shadar-Kai Lvl 19
Harbor
Devil's Gambit
Rogue Lvl 10 (With Pineleaf)
Sorrowdusk Isle
The Sanctum: Quench the Flames
The Sanctum: Church of the Fury
The Red Fens
Sarlona
Bard/Rogue Lvl 4
Harbor
Information is Key -Hard
Walk the Butcher's Path -Elite
The Captives -Elite
The MIller's Debt
Arachnophobia
Home Sweet Sewer
An Explosive Situation
Bringing The Light -Elite
Durk's Got A Secret -Elite
Garrison's Missing Pack – Elite
Recovering The Lost Tome – Elite
A Man Named Baudry Cartamon -Elite
Protect Baudry's Interests
Stop Hazadill's Shipment
Retrieve the Stolen Goods
Marketplace
The Sharn Syndicate -Hard
Stand Your Ground
Dirty Laundry
The Stormreaver Fresco
The Bookbinder Rescue
Come Out and Slay
Rogue Lvl 9 (With Patrick From DDO Cast)
Delera's Tomb (Elite)
The Mystery of Delera's Tomb
The Missing Party
Free Delera
Return to Delera's Tomb
Thrall of the Necromancer
Dungeons And Dragons 5E Tabletop
Started DDAL04-01 Suits of the Mists
Almost had a TPK (And was not even trying)
Final DM Prep for the next Death House session with the "unDMables"
The Goonies Adventure Card Game
Pineleaf Week
Gnome warlock Level 10 (with Drac)
Sorrowdusk Isle
The Sanctum: Quench the Flames
The Sanctum: Church of the Fury
The Red Fens
Warforged Warlock Level 7
Temple of Elemental Evil, Part 1
Finally completed Part 1 of the Temple despite failing every saving throw possible.
Minecraft
Built a store to sell all that string I have been collecting.
I learned how to brew potions.
Built a tunnel in the Nether from the central hub to my personal tunnel.
Donations
We currently have 28 supporters on Patreon. If you would like help support DDO Players, simply go to the donation page where you can support The Players Alliance on Patreon.  There you will find rewards including a mention on the podcast of your choice, or even guest for an episode on DDO Players News. By supporting us on Patreon you will help us upgrade our cameras so we can bring you better convention and tabletop play/review coverage.
Feedback
iTunes Reviews
This week we did not receive any reviews but would love your support!
Featured Comments
This week we have no featured comments
Emails
This week we have no emails.
Contact Us
Email us!
podcast@ddoplayers.com
Follow us on Twitter!
The Players Alliance @PlayersAlly
DDO Players @DDOPlayers
Draculetta @Draculetta_72
Pineleaf @PineleafNeedles
Follow Our Guest – Patrick @DDOCast or Twitch – twitch.tv/ddocast
Join Our Steam Group!
Final Thoughts
The Players Alliance LIVE Shows
Mondays at 8:30 p.m. Eastern – DDO Players News
Every Other Thursday at 9:30 (ISH) p.m. Eastern – XP Quest
Saturdays at 8:30 p.m. Eastern – LOTRO Players News
Every other Saturday after LPN – Tales of the Free Folk
Last Saturday of each month at 3:00 p.m. Eastern – LOTRO Academy: After School
Join Us For Our Live Shows! ddoplayers.com/live/
Make plans to join us next week as we celebrate our 100th episode and 2 year anniversary of DDO Players! Community Manager Cordovan will be joining us, and we will be talking Update 32 Assault On The Slave Lords. Also other "Special Surprise" Guests!