It's the 100th show! Bonnie Bew and Community Manager Cordovan joins us. We play our version of the "Match Game" and we learn that Drac's dreams might come true!
Audio Only Listen And Download Link
Podcast: Play in new window | Download (139.5MB)
YouTube Watch Links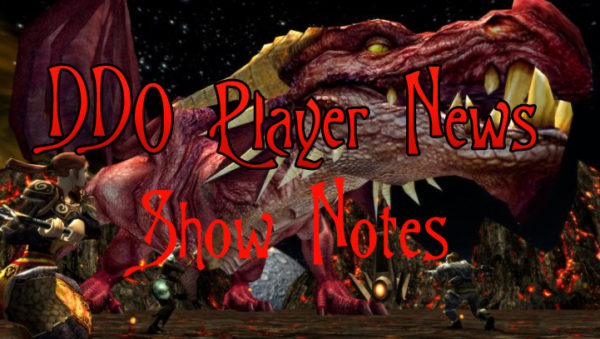 Game News
Updated Cannith Crafting Guide
Lamannia Release Notes (Last Updated 8-30-16)
Store Sales
Free Sample Of The Week September 2nd – 8th
Lesser Slayer Count Boost x1 Use Coupon Code MORSLAY 1/Account
20 % OFF
Shared Bank Storage
Character Bank Upgrades
Select Storage Bags
Shared Bank: Platinum Vault
Double Bonus Points!
Limited Time! Heroic & Epic Otto's Boxes
Update 32 Talk With Cordovan
DDO Players News
DDO Players News Podcast 100th Episode Celebration Giveaways
DDO Players Poll – What Are You Looking Forward To The Most, With Update 32: Against the Slave Lords
DDO Players Screen Shot Of The Week #55
DDO Players Interview With Travis Willingham
DDO Players News Match Game! Hosted By Bonnie Bew!
Questions:
Round 1:
A: "Jeets is in A LOT of trouble. He just got caught picking the lock on Cellimas' BLANK."
Drac – Underwear Drawer
Pine – Chastity Belt
Cordo – Epic Chest
B: "Durk's got a secret. He keeps Nibbles in his BLANK."
Drac – Bed
Pine – Mouth
Cordo – Dragontouched Boxer briefs
Round 2:
A:   ______ SWORD
Drac – Long
Pine – Broad
Cordo – Bastard
B:   EPIC  _______
Drac – Quiver
Pine – Fail
Cordo – Sword of Shadow
From The Dungeon
On The Table Top
Week in Gaming
Drac Week
Cannith
Shadar-Kai Lvl 19
Grim And Barret – No Quiver (Shocked? )
Rogue Lvl 10 (With Pineleaf)
Sarlona
Rogue Lvl 9
Marketplace
The Sharn Syndicate *ELITE*
Stand Your Ground
Dirty Laundry
The Stormreaver Fresco
The Bookbinder Rescue
Repossession
Come Out and Slay
Redfang the Unruled *ELITE*
D&D 5E – Death House, The party is still alive. Managed to do some major damage to them. The Sroc was rummage throw a toy chest, found a doll, and tossed at the Paladin, who has a death fear of dolls, he failed the saving throw and was frozen with fair, then the doll started to attack Had the Sorc down to his last death saving throw, and 2 other people down having to do the saving throws.. It's all the clerics fault they sarte still alive, the cleric is now possessed by a ghost, who is afraid of everything though..
Speaking Of Cleric – A Gift From One Of the "UNDmabales"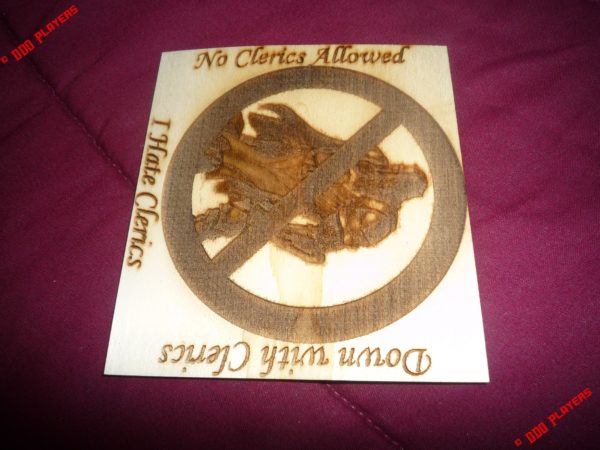 Zombiecidie Black Plague
Once again, we turn a Co-Op into a how best to screw over your friends game
Pineleaf Week
DDO
Gnome warlock Level 10 (with Drac)
The Red Fens
The Claw of Vulkoor (annoying and the staff was lost)
Into the Deep
Half-elf Warlock Level 7
Temple of Elemental Evil, Part 1
Chose Paladin as my Dilettante class (name Palilock).
First time I ever saw Vorka the Frogkeeper and a Giant Frog
Killed by Kirmudy the Bleak after receiving negative levels. Cleric survived so I was able to revive.
Managed to complete six of the optional bosses
First time I completed the entire first part in one session – first doing boss in first week
Human Druid 2 / Warlock 2
Sharn Syndicate
Waterworks
The Kobolds' Den: Clan Gnashtooth
The Kobolds' Den: Rescuing Arlos
Harbor
The Kobolds' New Ringleader
An Explosive Situation
The Miller's Debt
Home Sweet Sewer (Barely remembered to turn off my aura)
Minecraft
First time battling the End Dragon.
Bonnie Bew Week
Ladies' Night static group did some Jack Jibbers and Memoirs of and Illusionary Larcerner
I listened to ALL the podcasts
Donations
We currently have 24 supporters on Patreon. If you would like help support DDO Players, simply go to the donation page where you can support The Players Alliance on Patreon.  There you will find rewards including a mention on the podcast of your choice, or even guest for an episode on DDO Players News
Feedback
iTunes Reviews
This week we did not receive any reviews but would love your support!
Featured Comments
This week we have no featured comments
Emails
This week we have no emails.
Contact Us
Email us!
podcast@ddoplayers.com
Follow us on Twitter!
The Players Alliance @PlayersAlly
DDO Players @DDOPlayers
Draculetta @Draculetta_72
Pineleaf @PineleafNeedles
Join Our Steam Group!
Follow Our Guests
DDO – @DDOUnlimited
Twitch – twitch.tv/ddostream
Bonnie Bew @BonnieBew
Twitch –twitch.tv/bonniebew
Andang @AndangLP
Final Thoughts
The Players Alliance LIVE Shows
Mondays at 8:30 p.m. Eastern – DDO Players News
Every Thursday at 8:00  p.m. Eastern – XP Quest
Saturdays at 8:30 p.m. Eastern – LOTRO Players News
Every other Saturday after LPN – Tales of the Free Folk
Last Saturday of each month at 3:00 p.m. Eastern – LOTRO Academy: After School
Join Us For Our Live Shows! ddoplayers.com/live/