We cover the producer's letter and speculate on a few things within. Drac starts the D&D Tabletop Storm King's Thunder Campaign, and Pineleaf watches another movie on the list!
Audio Only Listen And Download Link
Podcast: Play in new window | Download (58.0MB)
YouTube Watch Links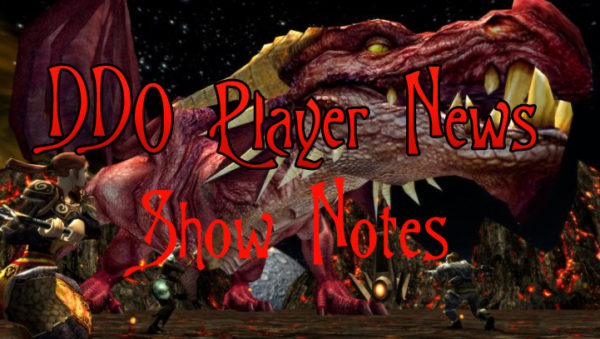 Game News
DDO Producer's Letter – September 2016 Edition
Store Sales
Free Sample Of The Week Sept. 23rd – 29th
Bell of Opening x1 Use Coupon Code opensaysme1 1/Account
35 % OFF
Harper Agent Enhancement Tree
Select Stat Tomes
Veteran Status
Select Classes
DDO Players News
DDO Players Poll – What Was Your Favorite Part Of The New Producer's Letter?
From The Dungeon
Icons of the Realms: Storm King's Thunder Figures Now Available
Syrinscape Teams With Geek & Sundry For Critical Role Soundpack
DDO Players Adventures in Middle-earth Player's Guide Review
On The Table Top
Week in Gaming
Drac Week
Cannith
Rogue Lvl 21
Against the Slave Lords
Slave Pits of the Undercity
Secret of the Slavers' Stockade
Assault on the Aerie of the Slave Lords
Shadar-Kai Lvl 19
Devil's Gambit
Grim And Barret – No Quiver
Warlock Lvl 11
Against the Slave Lords
Slave Pits of the Undercity
Secret of the Slavers' Stockade
Assault on the Aerie of the Slave Lords
Rogue Lvl 11  (With Pineleaf)
Assault on the Aerie of the Slave Lords
Black Anvil Forest
Dungeons & Dragons 5E Tabletop
Storm King's Thunder: A Great Upheaveal –
Started, Party heard rumor's of a reward for helping the Town/Keep of Nightstone with some Goblin attacks.  Party helped some outcast Goblins, then went into town, fought 2 Wargs, (Druid was down and doing death saving throws, made them all) Got back up and transformed into a Ice Cat (From their last adventure) the other 2 party members freaked out (First time they have seen this) I made them do fear throes, they made it. Moved into Temple and found 2 Goblins, killed one, and tired one up and integrate them, found out where there Main tribe is.  I'll be honest and state I was very surprised they did not go all Murder Hobo with the first set of Goblins. They did some nice RP/Conversation with them. Which shocked me. My friends kid's are normally Kill them all, and ask question later.
Played an yet unnamed board game for an upcoming Kickstarter preview we will publish in the next few weeks.
Pineleaf Week
Gnome warlock Level 11 (with Drac)
Assault on the Aerie of the Slave Lords
Black Anvil Forest
Made to Order (Never heard of that one before)
LOTRO
Spent time on the test server admiring the new housing area
Donations
We currently have 23 supporters on Patreon. If you would like help support DDO Players, simply go to the donation page where you can support The Players Alliance on Patreon.  There you will find rewards including a mention on the podcast of your choice, or even guest for an episode on DDO Players News.
Feedback
iTunes Reviews
This week we did not receive any reviews but would love your support!
Featured Comments
This week we have no featured comments
Emails
Mok Taskmaster Sends in an email, titled "In Defense Of Pineleaf"
Good day Gentlemen!
So.  Slight defence of Pineleaf here….   Last week when talking about the DDO played in 4K Pineleaf mentioned something about it being the 'pixels' – which he was technically correct.
Stupid resolutions and the TV manufacturers have everyone screwed up, on purpose, to sell more stuff….
"Cinema" 4K = 4096 pixels wide x 2160 pixels high
UHD – Which is 'consumer' 4k = 3840 pixels wide x 2160 pixels high
1080p – 1920 pixels wide x 1080 pixels high
720p – 1280 pixels wide x 720 pixels high
So yeah, confusion all around.  Even full on techies have issues deciphering it all, confusing on purpose.
But, for most people, consumers, UHD and 4K is the same thing effectively.
BUT, there still is no defense for not watching those movies.  Goonies?  Labyrinth?   Now, news of never seeing Predator?   Ugh.  No defense for that…….
MokTask
Contact Us
Email us!
podcast@ddoplayers.com
Follow us on Twitter!
The Players Alliance @PlayersAlly
DDO Players @DDOPlayers
Draculetta @Draculetta_72
Pineleaf @PineleafNeedles
Final Thoughts
The Players Alliance LIVE Shows
Mondays at 8:30 p.m. Eastern – DDO Players News
Every Thursday at 8:30ish  p.m. Eastern – XP Quest
Saturdays at 8:30 p.m. Eastern – LOTRO Players News
Last Saturday  of each month at Time Pending – LOTRO Academy: After School
Join Us For Our Live Shows! ddoplayers.com/live/