Grand Gamers Guild plans to release it's first Game, the card drafting fantasy game Unreal Estate in June 2017. The game is currently seeking funding on Kickstarter.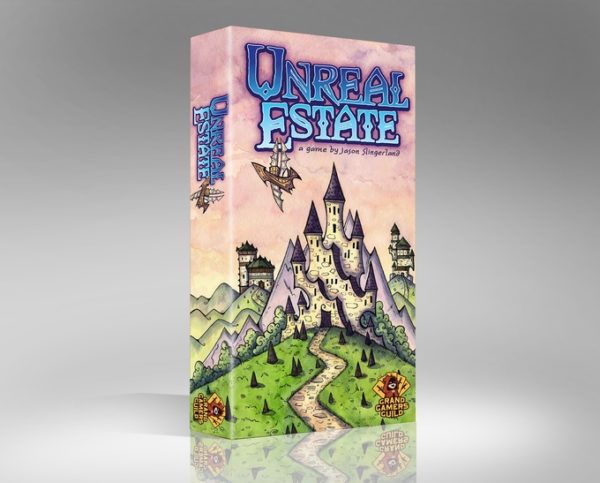 Players take the role of architects hired by the City Council to build the best fantasy cityscape, which is done by drafting buildings from the players' hands. Rejected designs go in the Scrap Pile off to the side, but as demand for those buildings grows, they can be reclaimed to score points. This is done by matching cards in hand with buildings in the Scrap Pile. Points are scored when the buildings are reclaimed and then they are discarded. There are also special building cards in the deck which allow players to do things like look at another player's hand and take a card, or immediately draft a card from the Scrap Pile. When the draw deck runs out, the player with the most points wins.
The kickstarter has 10 days left (As of this posting) and is currently 325 % Funded, so they are working on those all important stretch goals.
The box contains, 52 building cards, 6 special building cards, a deluxe folding cardboard score board, 8 wooden player score tokens (2 of each color), and a cardboard start player marker standee. The game is for 2 – 4 players and plays in 20 minutes. MSRP is $20.00