We talk Update 33: Return of the Night Revels, and the mystery building that showed up in the Marketplace and Eveningstar, and of course the latest news,  from the Tabletop world
Audio Only Listen And Download Link
Podcast: Play in new window | Download (62.8MB)
YouTube Watch Links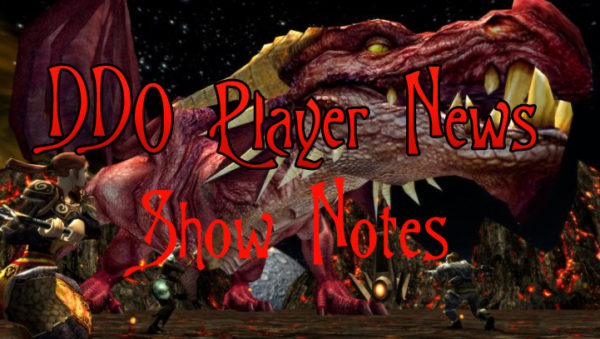 Game News
Update 33: Return of the Night Revels Release Notes
Mystery New Building In The Marketplace And Eveningstar
Store Sales
Free Sample Of The Week Oct 21-27th
Lesser Treasure Hunter's Elixir x1 Use Coupon Code HUNT4LOOT 1/Account
25 % OFF
Select Adventure Packs
Quest XP Elixirs
The Night Revels!
Welcome the return, for a limited time!
Now through Nov. 6th
DDO Players News
DDO Players Screen Shot Of The Week #56
DDO Players – Dungeonology Review
DDO Players Monsters and Heroes of the Realms: A Dungeons & Dragons Coloring Book Review
DDO Players Vast: The Crystal Caverns Review
From The Dungeon
Volo's Guide to Monsters Previews
Pathfinder Worldscape Comic book
Magpie Games Bluebeard's Bride RPG On Kickstarter
Open Legend: Open-source RPG On Kickstarter
On The Table Top
Fantasy Flight Games Announces New Mansions of Madness Second Edition Expansion Beyond the Threshold
Betrayal at House on the Hill: Widow's Walk Available
Mechs Vs Minions Available Now From Riot Games
Bears vs Babies – A Card Game On Kickstarter
Master of Orion: The Board Game to Receive U.S. Release from Cryptozoic
Week in Gaming
Drac Week
Cannith
Rogue Lvl 21
Shadar-Kai Lvl 19
The Devil's Gambit
Warlock Lvl 12
Night Revels OVER AND OVER AND OVER
Ranger Lvl 21 (reached)
Night Revels OVER AND OVER AND OVER
Rogue Lvl 12
Night Revels OVER AND OVER AND OVER
Rogue Lvl 12  (With Pineleaf)
The Sands of Menechtarun
Dungeons & Dragons 5E Tabletop
Pineleaf Week
Gnome warlock Level 12 (with Drac)
The Sands of Menechtarun
Chains of Flame (suicidal hirelings)
LOTRO
Mansions of Madness
Completed the first scenario
Mechs vs Minions
Donations
We currently have 24 supporters on Patreon. If you would like help support DDO Players, simply go to the donation page where you can support The Players Alliance on Patreon.  There you will find rewards including a mention on the podcast of your choice, or even guest for an episode on DDO Players News.
Feedback
iTunes Reviews
This week we did not receive any reviews but would love your support!
Featured Comments
This week we have no featured comments
Emails
This week we have no emails.
Contact Us
Email us!
podcast@ddoplayers.com
Follow us on Twitter!
The Players Alliance @PlayersAlly
DDO Players @DDOPlayers
Draculetta @Draculetta_72
Pineleaf @PineleafNeedles
Final Thoughts
The Players Alliance LIVE Shows
Mondays at 8:30 p.m. Eastern – DDO Players News
Every Thursday at 9:00ish  p.m. Eastern – XP Quest
Saturdays at 8:30 p.m. Eastern – LOTRO Players News
Last Friday 8:30 pm   – LOTRO Academy: After School
Join Us For Our Live Shows! ddoplayers.com/live/