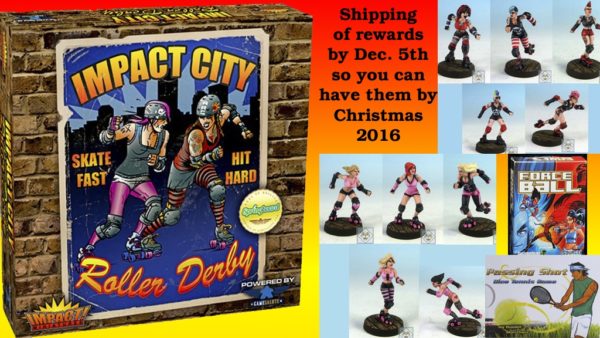 In 2012 Game Salute published Impact!'s board game Impact City Roller Derby. Looks like they would like to sell the rights. Impact! Miniatures is taking the opportunity to get the game back, and they've started a Kickstarter campaign in order to raise the funds for it, as well as create new resin figures for it.
The minis are 28mm scale unpainted resin miniatures.  A set will have 2 teams of 5 Roller Derby miniatures (one Jammer, one Pivot and 3 Blockers) and a Referee (as a jam counter)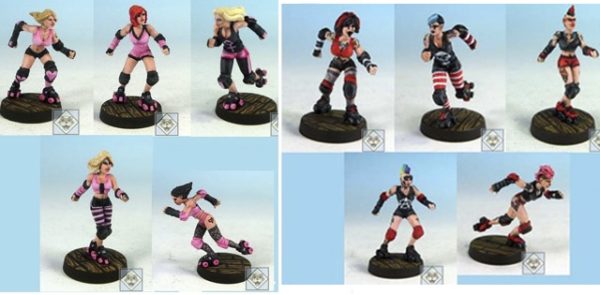 Impact Roller Derby  is a fast paced board game for 2 or 4 players based on flat track roller derby.
Game play is done by moving your team of 5 roller derby girls around the board trying to get your Jammer to pass more opposing derby girls than your opponents Jammer.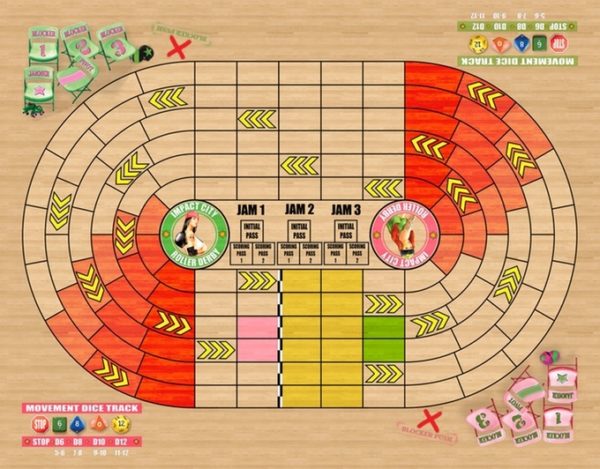 Games should take between 90 minutes to 2 hours if you play all the possible Jams. The game uses strategic movement of your players to pass or block opposing players. A variety of dice (D6, D8, D10 and D12) are used to determine the success of key moves but dice rolling is kept to a minimum during a turn (normally moving all 5 players should only require 0 to 3 dice rolls).
In addition, each lap of the track the coach (ie you) will have a hand of 3 special move cards which will give you options for special offensive or defensive plays straight from normal flat track derby play (like a Leg Whip or Hip Check). There are also Foul cards which allow you to risk breaking the rules to give your team a key advantage, however the referee might catch you and send you to the penalty box.
The kickstarter is up and running now,  The game is funded all ready, but you have to hurry as you only have 8 days left to get in on the roller derby action.