Latest news from Dungeons & Dragons Tabletop and Tabletop Gaming this week on the show
Audio Only Listen And Download Link
Podcast: Play in new window | Download (44.4MB)
YouTube Watch Links
---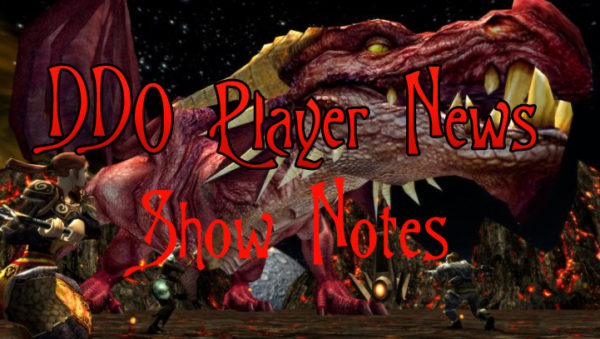 Game News
Turbine support closed on Thursday and Friday (Nov 24-25) for U.S. Thanksgiving
Store Sales
Free Sample Of The Week November 18th – 24th
Elixir of Angel's Tears x1 Use Coupon Code STATUSFIX 1/Account
20 % Off
Stat Tomes
Skill & UMD Tomes
Tomes of Learning
Harper Agent Enhancement Tree
From The Dungeon
Force Grey: The Lost Episode Streamed Live on Dec. 5th
WizKids Announces D&D Icons of the Realms Starter Set
Kobold Press Bestiary Fantasy Miniatures Kickstarter
Classic D&D Books Now Back Thanks To Print On Demand
On The Table Top
X-Men Munchkin Coming From USAopoly and Steve Jackson Games
Marvel Dice Masters: Deadpool – Available Now From WizKids
The Terminator: The Official Board Game Coming From Space Goat Productions
Week in Gaming
Drac Week
Cannith
Shadar-Kai Lvl 19
The Devil's Gambit *No Quiver*
Rogue Lvl 14
The Devil's Gambit
Tavern Brawl
Grim and Barett QUIVER! Drop! I Repeat Quiver Drop!!
Subversion
Multitude of Menace
Ranger Lvl 21
Ranger  12 (Gnome – Static Group With Mythery, Sahba Jade, Rent2Pwn, Cad)
Hall Of Heroes
Temple Of Elemental Evil Part 1 *Elite*
House Kundarak
Vault of Night (story arc) *ELITE*
Tharashk Arena (VoN 1)
The Prisoner (VoN 2)
Gateway to Khyber
The Jungle of Khyber (VoN 3)
Haywire Foundry (VoN 4)
Rogue Lvl 13  (With Pineleaf)
Dungeons & Dragons 5E
Pineleaf Week
Gnome warlock Level 13 (with Drac)
The Twelve/Lordmarch
Eyes of Stone
Assault on Summerfield
Blockade Buster
ESO
We decided to head out to the orcish homeland
Open-Legend Open Source RPG
Watched the first episode of their campaign series on YouTube Amaurea's Dawn
Also watched several other videos related to the game.
Seems like an interesting system so am I getting ready to create a couple characters
Minecraft
Cleared out an abandoned mineshaft (mostly)
Built a subway terminal
Tabletop Games
Descent: The Road to Legend
Tiny Epic Kingdoms
The Goonies Adventure Card Game
Donations
We currently have 23 supporters on Patreon. If you would like help support DDO Players, simply go to the donation page where you can support The Players Alliance on Patreon.  There you will find rewards including a mention on the podcast of your choice, or even guest for an episode on DDO Players News. By supporting us on Patreon you will help us defer our costs to host the podcast and website each month.
Feedback
iTunes Reviews
This week we did not receive any reviews but would love your support!
Featured Comments
This week we have no featured comments
Emails
This week we have no emails.
Contact Us
Email us!
podcast@ddoplayers.com
Follow us on Twitter!
The Players Alliance @PlayersAlly
DDO Players @DDOPlayers
Draculetta @Draculetta_72
Pineleaf @PineleafNeedles
Final Thoughts
The Players Alliance LIVE Shows
Mondays at 8:30 p.m. Eastern – DDO Players News
Every Thursday at 9:00ish  p.m. Eastern – XP Quest
Saturdays at 8:30 p.m. Eastern – LOTRO Players News
Last Friday of each month at 8:30 p.m.   – LOTRO Academy: After School
Join Us For Our Live Shows! ddoplayers.com/live/