As it was Thanksgiving this week, we have no news at all this week 🙂 So we talked what we did in gaming this week!
Audio Only Listen And Download Link
Podcast: Play in new window | Download (32.7MB)
YouTube Watch Links
---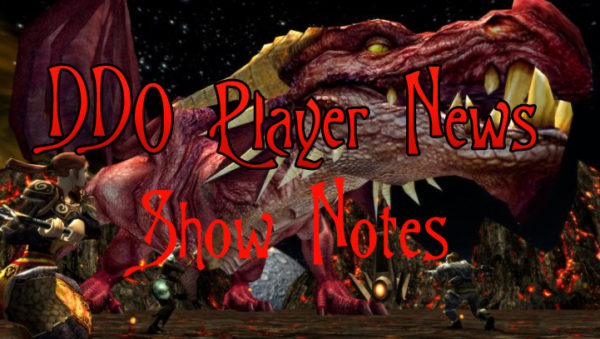 Game News
Store Sales
Free Sample Of The Week November 24th – December 1st
Jeweler's Tool Kit Use Coupon Code BLINGITUP 1/Account
20 % Off
Astral Shards
Guild Renown Elixirs
50 % Off
Guild Charters
Guild Airship Beacon
Week in Gaming
Drac Week
Cannith
Rogue Lvl 14
Marketplace
Devil's Assault
Proof Is In The Poison *Elite*
Rogue Lvl 13  (With Pineleaf)
The Twelve/Lordmarch PLaza
Undermine
Siegebreaker (reached level 14)
Dungeons & Dragons 5E – Storm King's Thunder Campaign
Players survived 2 attacks on the cloud castle, they are taking to Tribor.
The Wizards cast Ice Knife (Which has AOE Damage) and knocked the Monk down to 0 HP, so he was doing death saves. But made it.
Players are ready to see what Tribor has in store for them!
Tabletop
Dead Of Winter
Not sure what was up with us, we did not Screw each other over at all! We were GASP! Working with each other! To Win the scenario!
I was the betrayer, but failed to do what I needed to do.
Castle Panic Engines Of War (Expansion) For Review
Pineleaf Week
Gnome warlock Level 13 (with Drac)
The Twelve/Lordmarch PLaza
Undermine
Siegebreaker (reached level 14)
Half-orc Warlock Level 7
Temple of Elemental Evil, Part 2
First time I gained the Ransack bonus – didn't know it was at the start
First time I recall running into the red and green dragons
First time to visit all four nodes
Open-Legend Open Source RPG
Watched a few more Open-Legend videos. I think I have seen all the good ones now.
From the Tabletop
Wyvren Games has changed their name to Wyvern Games. It's about time.
Wordsy has two days remaining in its KS – nearing first stretch goal
Mailbag
Experimental Meds expansion for Pandemic: The Cure
Warfighter WW II
Arkham Horror The Card Game
Pandemic: The Cure
First time playing with the Experimental Meds expansion
First game used all of the events and two of the new roles
Second game was my first attempt at the Mutation Challenge
Elder Sign: Omens
Ran the app with the reporter (Simmons) and won – mainly a test run for a future series.
Part of my reason for this was because I finally decided to learn how to use OBS
Deep Space D-6
Warfighter WWII
I received this today and tried a quick scenario before the show.
The results were predictable.
Donations
We currently have 23 supporters on Patreon. If you would like help support DDO Players, simply go to the donation page where you can support The Players Alliance on Patreon.  There you will find rewards including a mention on the podcast of your choice, or even guest for an episode on DDO Players News.
Feedback
iTunes Reviews
This week we did not receive any reviews but would love your support!
Featured Comments
This week we have no featured comments
Emails
Kerkos writes in an email
Hey PineLeaf and Drac,
My friend from many moons ago and avid game player, Claire, has launched a business with colouring wordsearch books.  I'm not asking for a shout out on the podcast, but thought y'all might take a minute to look at the product.
http://www.whimsywordsearch.com/
https://www.facebook.com/WhimsyWordSearch
I've just ordered the volumes 1 of the normal word search and the pictogram version as well.  I'm wondering how much the pictogram word search is going to stretch my brain!
Kerkos
Contact Us
Email us!
podcast@ddoplayers.com
Follow us on Twitter!
The Players Alliance @PlayersAlly
DDO Players @DDOPlayers
Draculetta @Draculetta_72
Pineleaf @PineleafNeedles
Final Thoughts
The Players Alliance LIVE Shows
Mondays at 8:30 p.m. Eastern – DDO Players News
Every Thursday at 9:00ish  p.m. Eastern – XP Quest
Saturdays at 8:30 p.m. Eastern – LOTRO Players News
Last Friday of each month at 8:30 p.m.   – LOTRO Academy: After School
Join Us For Our Live Shows! ddoplayers.com/live/