On the show, we talk about the recent poll "Which monster would you like to see in DDO" and My Little Pony RPG? Yes, it's a real thing folks!
Audio Only Listen And Download Link
Podcast: Play in new window | Download (36.5MB)
YouTube Watch Links
---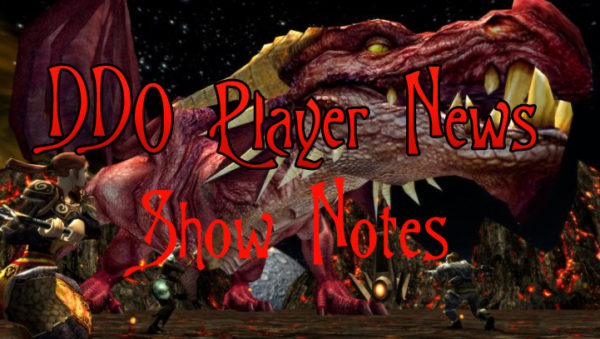 Game News
DDO Poll On The Forums- Which of the following monsters would you most like to see next in DDO?
Cordovan – Similar to our last effort along these lines, this is more speculative than formal, in that none of these may end up happening for various reasons. That said, we were talking recently about which monster we might want to next bring to DDO, and figured it would be good to get your thoughts on it. You can only vote for one.
Goblins
Shambling Mounds
Flameskulls
Shield Guardians
Store Sales
Free Sample Of The Week December 9th – 15th
Snowball x25 Use Coupon Code SNOWAMMO 1/Account
25 % Off
Crafting Essences
Crafting Experience Elixirs
Crafting Success Boosters
Collectibles Crate
December Deals Now – Dec. 15th
75% off Epic Destinies
35% off Jeweler's Tool Kits
50% off Colossal Ingredients Bag
50% off +5 Supreme Tomes
From The Dungeon
Gen Con Extends Partnership with Indianapolis through 2021
Adventures in Middle-Earth: Loremaster's Guide Cover Revealed
My Little Pony Role Playing Game On The Way
On The Table Top
Super Dungeon Tactics Video Game Coming Soon From Underbite Games
WizKids Announces Burke's Gambit
Engines of War Castle Panic Expansion Review
Week in Gaming
Drac Week
Cannith
Rogue Lvl 14  (With Pineleaf)
Trial of the Archons
The Archons' Trial
Demon Assault
The Devil's Details
Spent my week playing the Save Vs The Black Plague Game…
Watched Stranger Things Season 1 (It's sorta D&D related right 🙂
Pineleaf Week
Gnome warlock Level 14 (with Drac)
Trial of the Archons
The Archons' Trial
Demon Assault
The Devil's Details
Table Top
Harry Potter Hogwarts Battle
Another Cooperative Deckbuilding game
Played the first two games and prepared for the third.
The first two games are very easy and technically you can skip them if you are a gamer.
I have heard that Game 7 is rather long – it may be a while before I get there
One Deck Dungeon
Just arrived today so I only had a chance to read the rules and a quick attempt at play
In the quick try, I learned that one needs to know when to flee a nasty encounter – squish
Minecraft
Built a skeleton farm that I have recently found at my base.
Donations
We currently have 23 supporters on Patreon. If you would like help support DDO Players, simply go to the donation page where you can support The Players Alliance on Patreon.  There you will find rewards including a mention on the podcast of your choice, or even guest for an episode on DDO Players News. By supporting us on Patreon you will help us upgrade our camera's so we can bring you better convention and tabletop play/review coverage.
Feedback
iTunes Reviews
This week we did not receive any reviews but would love your support!
Featured Comments
This week we have no featured comments
Emails
This week we have no emails.
Contact Us
Email us!
podcast@ddoplayers.com
Follow us on Twitter!
The Players Alliance @PlayersAlly
DDO Players @DDOPlayers
Draculetta @Draculetta_72
Pineleaf @PineleafNeedles
Final Thoughts
The Players Alliance LIVE Shows
Mondays at 8:30 p.m. Eastern – DDO Players News
Every Thursday at 9:00ish  p.m. Eastern – XP Quest
Saturdays at 8:30 p.m. Eastern – LOTRO Players News
Last Friday of each month at 8:30 p.m.   – LOTRO Academy: After School
Join Us For Our Live Shows! ddoplayers.com/live/