We are joined by the Damsels Of DDO (Finally) for our year in end review show!
Audio Only Listen And Download Link
Podcast: Play in new window | Download (103.5MB)
YouTube Watch Links
---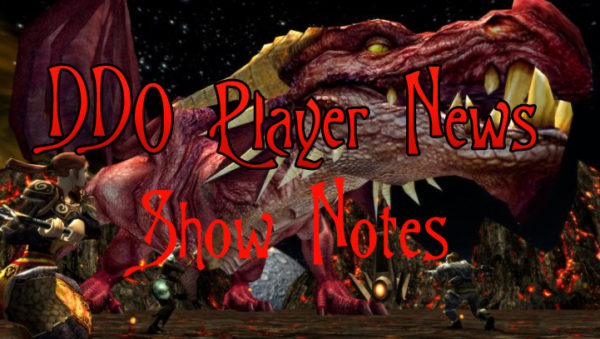 Game News
Update 33 Patch 2 Release Notes
Update 33 Patch 2 Hotfix Release Notes
The Staff (Devs) We Know That Are Still At Standing Stone Games
Store Sales
Free Sample Of The Week December 23rd – January 2nd
Ski Lift Hot Cocoa x10 Use Coupon Code COLDOUTSIDE 1/Account
20% OFF
True Hearts of Wood
All Lesser Hearts Of Wood
Quest XP Elixirs
Healing Items
SP Potions
Double Points NOW-Jan 2nd
December Deals Now – Jan. 2nd
50% off
+5 Tome of Skill x6
Shadar-kai Iconic Hero
75% off
Greater Tome of Heroic Learning
Sovereign Guild Renown Elixirs
DDO Market Place Deals Now – Jan 2nd
DDO Year In Review
Update 30
Update 30, released on Monday, February 29th, 2016
New race and Iconic:
Gnome and Deep Gnome
Artificer Arcanotechnician enhancement pass
Voice chat individual volume sliders
10th Anniversary event – throughout March, up until April 17th
Update 31
Update 31, released on Tuesday, May 10th, 2016
Gnomework
3 new Free to Play standalone quests:
Search and Rescue, Memoirs of an Illusory Larcener, Good Intentions
Fighter enhancements tweak
Kensei / SD
Monster Manual Volume VII (added with P2)
New monster: Umber Hulks
Update 31 named items
Update 32
Update 32, released on Tuesday, September 13th, 2016
Against the Slave Lords
3 new Greyhawk quests based on a classic PnP module
Part 1 / Part 2 / Part 3
Cannith Crafting overhaul (discussion)
Update 32 named items
All new Slave Lords Crafting
Update 33
Update 33 released on Thursday, October 20th, 2016
Return of the Night Revels
Two new quests and a handful of new loot items focusing on cosmetic fun
Class passes
Monk: Handwraps reworked, Henshin/Ninja/Shintao
New Deity feats for Divine classes
Standing Stone Games Announcement Monday December 19th 2016
Which update was the best update of 2016?
Pine – Update 30 Ghomes
Sahba- Update 32 for the Cannith Crafting
Mythery- Update 30 gnomes
Lessah- Update 30 Gnomes
Drac- Update 32 – Against The Slave Lords
What is the best Non Raid/Quest Thing Added To DDO IN 2016?
Pine – Gnomes
Sahba- Gnomes
Mythery- Gnomes
Lessah-  Gmomes
Drac- Gnome
What are you most looking forward to with DDO in 2017?
Pine – Ravenloft
Sahba- Ravenloft
Mythery- Umber Hulks
Lessah-  Umber Hulks
Drac- Ravenloft (Hopefully) Duh!
Our DDO Resolutions
How Did We Do From Last Year?
Pineleaf- Start a ranger and reach at least level 20
Sahba- (I normally do not make resolutions so ) To Get Drac To Lvl 30 from 15
Mythery- (Normally does not make resolutions) Get a few more lives on my Epic Completionist
Lessah- To get the shard and seal of the Full Plate of the Ring Leader and wear it!
Drac- Get my Rogue to Lvl 28 (I"m setting the bar low) Run Haunted Halls (So many fond memories of pen and paper) and run some raids. Play more on Argo (with those that won't come over to Canninath to play with me) lol
This Year Resolutions
Pineleaf- Monk to Lvl 20, Something Ravenloft Maybe (depending on timing of release etc.)
Sahba – Epic completionist with Sahba
Mythery – Get a few more lives on my Epic Completionist
Lessah – I am going to upgrade full plate of the ring leader if it's the last freaking thing i ever do in my whole life…ok, let's be realistic…in the next five years I'll get it done.
Drac – Almost like last year, get ANY character I have to 28, to run Haunted Halls!, Play my WolfLock more on Argo!
The "Infamous Tweet"
@DDOPlayers @SahbaJade she will kick your arse! 😛

— grimorde (@grimorde) December 21, 2016
Like you girls NEED a reason to do that 🙂 @SahbaJade @grimorde @Lessah @Mythery1

— DDO Players (@DDOPlayers) December 22, 2016
From The Dungeon
Super-Fan Builds Takes On Dungeons & Dragons With New Episode
Dungeons & Dragons Red Dragon Trophy Plaque Available From WizKids
Beamdog Looking For Beta Testers For New Game
On The Table Top
What Lies Within Mansions of Madness DLC Out Now
Rivers Horse Shows Off Goblin Expansion For Labyrinth Board Game
Gale Force Nine Shows Off Doctor Who: Time of the Daleks Board Game
Week in Gaming
Drac Week
Ranger  12  (Gnome – Static Group With Mythery, Sahba Jade, Rent2Pwn, Cad, and sometimes Lessah)
House Kundarak
Vault Of Night (Elite)
Gateway to Khyber
The Jungle of Khyber (VoN 3)
Haywire Foundry (VoN 4)
The Harbor
Rogue Lvl 15  (With Pineleaf)
Gianthold
The Maze of Madness
Trial by Fire
Video Games
Super Dungeon Tactics For Review
Pineleaf Week
Gnome Warlock Level 15
Gianthold
The Maze of Madness
Trial by Fire
Gnome Warlock Level 7
Temple of Elemental Evil, Part 2
My first attempt was after the ranged attack fix and I came to a quick death.
Retried more carefully and made it through the fire node.
In the end I made my death appointment with Zug
Tabletop
One Deck Dungeon
Played a round with the rogue and quickly got squashed.
Dungeon Solitaire: Tomb of Four Kings
Played several rounds of the basic game and eventually squeaked out a win.
Deep Space D-6
I finally won a game with the standard ship (using the easy setting for now).
I then ran a game with a second ship (the Athena) and managed to win.
Arkham Horror: The Card Game
I attempted to search for a cursed beast in the Bayou and was driven crazy.
I met a grisly fate when I visited the Carnevale
Minecraft
Tried building a general mob farm that turned out to be a total failure
Retried with an alternate design that is much better (though not spectacular).
Sahba Week
DDO
Questing with the Cannith static group that includes drac;
Maarajaade, my level 26 quarterstaff-using rogue epic flagged for VONs, plus the first two in the Lords of Dust chain.
Minecraft
Started a new world with Myth – haven't built a base yet
Started a new solo world – lava ocean
Star Wars – Heroes
Coup (The Dystopian Universe)
Donations
We currently have 25 supporters on Patreon. If you would like help support DDO Players, simply go to the donation page where you can support The Players Alliance on Patreon.  There you will find rewards including a mention on the podcast of your choice, or even guest for an episode on DDO Players News.
Feedback
iTunes Reviews
This week we did not receive any reviews but would love your support!
Featured Comments
This week we have no featured comments
Emails
This week we have no emails.
Contact Us
Email us!
podcast@ddoplayers.com
Follow us on Twitter!
The Players Alliance @PlayersAlly
DDO Players @DDOPlayers
Draculetta @Draculetta_72
Pineleaf @PineleafNeedles
Follow Our Guests!
Sahba Jade @SahbaJade
Mythery @Mythery1
Lessah @Lessah
The Damsels of DDO Website – damselsofddo.com
Final Thoughts
The Players Alliance LIVE Shows
Mondays at 8:30 p.m. Eastern – DDO Players News
Every Thursday at 9:00ish  p.m. Eastern – XP Quest
Saturdays at 8:30 p.m. Eastern – LOTRO Players News
Last Friday of each month at 8:30 p.m.   – LOTRO Academy: After School
Join Us For Our Live Shows! ddoplayers.com/live/