On the show this week, we found out what "Something Fun Is!"
Audio Only Listen And Download Link
Podcast: Play in new window | Download (48.1MB)
YouTube Watch Links
---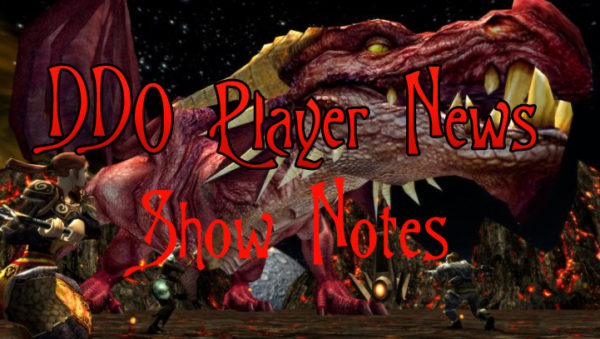 Game News
Current State Of Things From Cordovan
Reaper And Champion Changes Coming To Lamannia
Massively Overpowered 2016 Awards
DDO was a community winner for Most Underrated Game (They also scolded us out for organizing a campaign to vote)
Store Sales
Free Sample Of The Week  January 6th – 12th
SOMETHING FUN Use Coupon Code FUNTIMES 1/Account
35 % OFF
Shared Bank Storage
Character Bank Upgrades
Select Storage Bags
Shared Bank: Platinum Vault
From The Dungeon
On The Table Top
Kingdom Death Is Now The Most Funded Board Game Kickstarter Of All Time
Week in Gaming
Drac Week
Cannith
Druid Lvl 8 (Soon To Be WolfLock)
The Catacombs *Elite*
The Patriarchs' Crypt
Chapter 1: Setting the Wards: The Lower Cathedral
Chapter 2: Setting the Wards: The Patriarchs' Crypt
Archbishop's Daughter
Chapter 1: Endgame: Marguerite
Chapter 2: Endgame: The Archbishop's Fate
After I hit Lvl 8, I figured out I messed when I was leveling and did not put enough points into WIS/ INT. So, I found out I could not cast any spells. OOPS.. so I did a TR and fixed that. Next I'll start working on Warlock levels.
House Jorasco
The Graverobber
Rogue Lvl 15  (With Pineleaf)
Gianthold
Advice: remember fire resistance
Dungeons & Dragons 5E
DM Prep work for our next session of Storm King's Thunder
Video Games
The Warlock Of Firetop Mountain
The Elder Scrolls Online
Pineleaf Week
Gnome warlock Level 15 (with Drac)
Gianthold
Advice: remember fire resistance
Foundation of Discord
A Cry for Help
The Prison of the Planes
Human Monk (Past Art) Level 2/3
Harbor
Home Sweet Sewer
The Miller's Debt
Arachnophobia – Half of two wings came at me at heading west
Information Is Key (learned the reason for Shuriken – oozes)
The Smuggler's Warehouse
Protect Baudry's Interests (finally earned level 3)
Stop Hazadill's Shipment (actually took level 3)
Retrieve the Stolen Goods
Tabletop
Arkham Horror: The Card Game
Ran the final scenario and did a couple insane things.
Then I headed to new Orleans where I found how just how crippled I was.
One Deck Dungeon
Played a round with the archer and reached the dragon before I inevitably fell.
Harry Potter Hogwarts Battle
Warfighter WWII
I ran a tank hunting scenario. As the enemy was closing in, I decided to make a dash for the tank in hopes of making a solid hit. Alas, the bazooka and satchel charge failed to penetrate the armor and all hope seemed lost. Luckily, I was able to scrounge a little extra ammo for my bazooka and blow the tank up in the last turn.
Tiny Epic Kingdoms
Ran a solo game with the dwarves facing the undead.
The solo game seems to be really tough as I get blown away any time I play it.
Dungeon Solitaire: The Labyrinth of Souls
Just received the deck that was created specifically for the game.
It's a good size though it is not my favorite artwork
Played three games: died in one and survived the other two (but no victories)
Donations
A big thank you to Onishi who is our top supporter on Patreon! We currently have 22 supporters on Patreon. If you would like help support DDO Players, simply go to the donation page where you can support The Players Alliance on Patreon.
Feedback
iTunes Reviews
This week we did not receive any reviews but would love your support!
Featured Comments
This week we have no featured comments
Emails
This week we have no emails.
Contact Us
Email us!
podcast@ddoplayers.com
Follow us on Twitter!
The Players Alliance @PlayersAlly
DDO Players @DDOPlayers
Draculetta @Draculetta_72
Pineleaf @PineleafNeedles
Final Thoughts
The Players Alliance LIVE Shows
Mondays at 8:30 p.m. Eastern – DDO Players News
Every Thursday at 9:00ish  p.m. Eastern – XP Quest
Saturdays at 8:30 p.m. Eastern – LOTRO Players News
Last Friday of each month at 8:30 p.m.   – LOTRO Academy: After School
Join Us For Our Live Shows! ddoplayers.com/live/