We cover the Producer's Letter and Gen Con 50 Beer 🙂 Just listen, it will all makes sense!
Audio Only Listen And Download Link
Podcast: Play in new window | Download (84.9MB)
YouTube Watch Links
---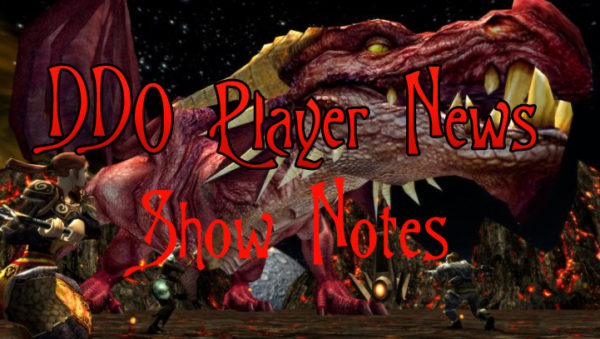 Game News
Stonelands Coming To DDO And Maybe A Raid To Anniversary Event
DDO Producer's Letter – January 2017
Store Sales
Free Sample Of The Week January 19th – 26th
Midwinter Spirit Token Use Coupon Code RACETHECOLD 1/Account
40 % OFF
Select Monster Manuals
Slayer Count Boosts
Select Pets & Accessories
Companion Name Changes
DDO Players News
DDO Players Poll – Who Should Voice Strahd Von Zarovich In The Ravenloft Expansion?
DDOCentral
One of the voice actors from Vampire: The Masquerade – Bloodlines
Qhualor
Vin Diesel
Geoff Hanna (From DDO Gamer)
James Earl Jones
Grimorde
Patrick Stewart
Livmo
Vin Diesel
From The Forums
Lonnbeimnech
Tracy Hickman.
Whitethorn1
Sam Elliott
KnarlWood
Pierce Brosnan
Vish
Patrick Stewart Or Jack Nicholson
Eric_the_Dead
Mark Hamill.
No, not with his Joker voice. But if he has the talent to come up with the best Joker voice of all time, then he has the talent to come up with the best Vampire Overlord voice of all time.
DDO Players Screen Shot Of The Week #59
Interview With Game Designer Rodney Thompson
DDO Players site problems
– Make sure you're following us on twitter to see our latests posts! We are having an issue with the site, new posts are not showing up for 24 hours, so you won't see the latests posts on the homepage!
From The Dungeon
WOTC Announce 2017 Convention Schedule
Sun King Brewery to Create Official Beer for Gen Con 50
On The Table Top
Tortuga 1667 A Pirate Game On Kickstarter
Delve A Dungeon Building Adventure On Kickstarter
Week in Gaming
Drac Week
Cannith
Druid Lvl 8 (Soon To Be WolfLock)
Delera's Tomb
The Missing Party
Free Delera
Return to Delera's Tomb
Return to Delera's Tomb
Thrall of the Necromancer
Rogue Lvl 16 (Reached)
Gianthold
Ranger  13 (Reached) (Gnome – Static Group With Mythery, Sahba Jade, Rent2Pwn, Cad) (With Guest Lessah)
Vault of Night
The Vault of Night (VoN 5) (Dragon Pre-Raid)
Plane of Night (VoN 6) (Dragon Raid)
Return to Delera's Tomb *Elite*
Thrall of the Necromancer
Rogue Lvl 16  (With Pineleaf)
The Harbinger of Madness
Harbor
The Lords of Dust
Servants of the Overlord
Tabletop
Element (New upcoming game from Rather Dashing Games)  for review look for that coming soon
Theomachy For Review
Pineleaf Week
Gnome warlock Level 16 (with Drac)
The Harbinger of Madness
Harbor
The Lords of Dust
Servants of the Overlord
Human Monk (Past Art) Level 5
House Deneith
Depths of Despair
Depths of Darkness
Depths of Discord
Depths of Doom
Shan-to-Kor
The Sacred Helm
The Cloven-jaw Scourge: Blockade
The Cloven-jaw Scourge: Caverns of Shaagh
Halls of Shan-To-Kor
First time I recall doing the entire chain in one session
The reward for the chain was Shadow Star, which is perfect for a monk
House Kundarak
The Chamber of Insanity
The Lair of Summoning

When I hit the trapped chest room, I had left the area before the bars fell

The Forgotten Caverns
Taming the Flames (Fell into one of the lava pools and decided to not save this one)
Tangleroot Gorge
Dinged for level 6 when Splinterskull for the first time (decided to delay leveling)
First Strike (Hard)
The Hobgoblins' Captives (Hard)
Yarkuch's War-plans
Whisperdoom's Spawn (tried to see if I could put a dent in Whisperdoom)
The Deadly Package: The Stronghold Key
The Deadly Package: Agent of the Darguul (after this, I finally took Level 6)
House Joraco
Tabletop
Deep Space D-6
Tried the drone ship again and found it to be frustrating as I seem to always get stuck.
Tried the Mononoaware ship for the first time. It was challenging but fun.
The game was close but I did go boom in the end.
Bowling Solitaire
This is tougher than you would think – still getting too many open frames.
Pentaquark
Finally managed a win after several attempts at the base game.
Twin Stars
Took a couple tried to figure out how this game operates.
Onirim
Won a base game and am finally getting the hang of it
Tried the Lost Steps expansion and ran out of cards.
Donations
A big thank you to Onishi who is our top supporter on Patreon! We currently have 22 supporters on Patreon. If you would like help support DDO Players, simply go to the donation page where you can support The Players Alliance on Patreon. There you will find rewards including a mention on the podcast of your choice, or even guest for an episode on DDO Players News.
Feedback
iTunes Reviews
This week we did not receive any reviews but would love your support! If you have not already, please go leave us a review, it helps get the show out there the more reviews (and 5 star reviews) we have the better we show up in searches on iTunes!
Featured Comments
From MokTask on WOTC Announce 2017 Convention Schedule
Disappointed that Wizards of the Coast isn't going to be at Gencon this year, considering it is the direct descendant of the original convention that started in Lake Geneva those 50 years ago. But, when they (WOTC) said they weren't doing Gencon anymore to focus on more conventions in a year, instead of just one big one, I guess it makes sense. I think last year, they weren't 'officially' there, but a couple of the main people came out to Gencon because hey, it's Gencon. I'd imagine if that was true, then the 50th will certainly draw them in.
Still kinda sucks. But, I'll see them at Origins!
Emails
This week we have no emails.
Contact Us
Email us!
podcast@ddoplayers.com
Follow us on Twitter!
The Players Alliance @PlayersAlly
DDO Players @DDOPlayers
Draculetta @Draculetta_72
Pineleaf @PineleafNeedles
Final Thoughts
The Players Alliance LIVE Shows
Mondays at 8:30 p.m. Eastern – DDO Players News
Every Thursday at 9:00ish  p.m. Eastern – XP Quest
Saturdays at 8:30 p.m. Eastern – LOTRO Players News
Last Friday of each month at 8:30 p.m.   – LOTRO Academy: After School
Join Us For Our Live Shows! ddoplayers.com/live/