This week, we don't have much DDO news, but we do have tons of news in the world of Role Playing And Tabletop Games. And Drac lets his feelings known, a few times. for better or worse!
Audio Only Listen And Download Link
Podcast: Play in new window | Download (66.7MB)
YouTube Watch Links
---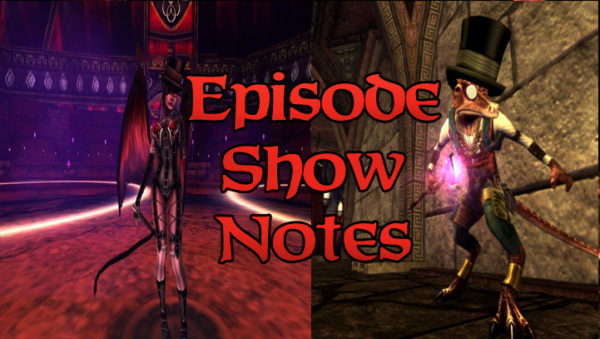 Game News
Update 35 Patch 1 Release Notes
The Festival of the Traveler has returned
Store Sales
Free Sample Of The Week March 24th – 30th
Long Lasting Potion of 10 Magical Resistance x5 Use Coupon Code LLPMRESIST 1/Account
25 % Off
True Hearts of Wood
All Lesser Hearts Of Wood
Quest XP Elixirs
Healing Items
SP Potions
From The Dungeon
Goodman Games Partners with WOTC To Bring Hard Cover Collector's Editions Of Classic D&D Modules
Pathfinder Online Still In Development
Dungeon Crawl Classics Lankhmar Boxed Set Kickstarter
Planescape Torment Enhanced Edition On The Way?
The Road Goes Ever On For Adventures in Middle-earth
Official D&D Character Sheets Coming In June
Pathfinder Book of the Damned On The Way
On The Table Top
More Dungeons & Dragons Dice Masters On The Way
Harry Potter: Hogwarts Battle Monster Box of Monsters Expansion
Week in Gaming
Drac Week
Cannith
Rogue Lvl 16
Dragonblood Prophecy
The Newcomers
Black and Blue
Dragonborn Warlock Lvl 7
The Sharn Syndicate ELITE
The Bookbinder Rescue
Repossession
Come Out and Slay
The Seal of Shan-To-Kor ELITE
The Sacred Helm
The Cloven-jaw Scourge: Blockade
Rogue Lvl 15  (With Pineleaf)
Reaver's Refuge
Aussircaex's Valley
Pineleaf Week
Gnome warlock Level 16 (with Drac)
Reaver's Refuge
Aussircaex's Valley
Prey on the Hunter (with its Intersection of a Thousand Giants)
Human Monk (Past Art) Level 10-11
House Phiarlan
Path to Whisperdoom

Masses of Kar-Thull Mutts at the start that constantly tripped me

The Spawn of Whisperdoom

Really, this one could have used a second shrine
Dragonborn Favored Soul Level 3
Harbor
Bringing the Light
The Cerulean Hills
Information is Key
The Kobolds' Den: Clan Gnashtooth
The Kobolds' Den: Rescuing Arlos
Tabletop
Doing better against the Lich in One Deck Dungeon but not good enough
Donations
We currently have 22 supporters on Patreon. If you would like help support DDO Players, simply go to the donation page where you can support The Players Alliance on Patreon.   There you will find rewards including a mention on the podcast of your choice, or even guest for an episode on DDO Players News.
Feedback
iTunes Reviews
This week we did not receive any reviews but would love your support!
Featured Comments
This week we have no featured comments
Emails
This week we have no emails.
Contact Us
Email us!
podcast@ddoplayers.com
Follow us on Twitter!
The Players Alliance @PlayersAlly
DDO Players @DDOPlayers
Draculetta @Draculetta_72
Pineleaf @PineleafNeedles
Final Thoughts
The Players Alliance LIVE Shows
Mondays at 8:30 p.m. Eastern – DDO Players News
1st and 3rd Fridays 11pm. Eastern – XP Quest
Last Friday of Every Month – LOTRO Academy After School
Saturdays at 8:30 p.m. Eastern – LOTRO Players News
Join Us For Our Live Shows! ddoplayers.com/live/