We Talk Update 35 Patch 2, Ravenloft And More!
Audio Only Listen And Download Link
Podcast: Play in new window | Download (69.8MB)
YouTube Watch Links
---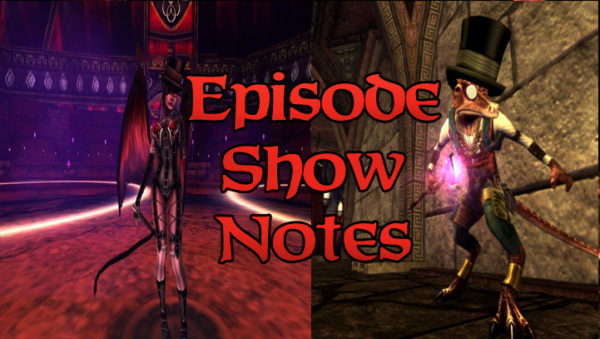 Game News
Update 35 Patch 2 Release Notes
DDO Store Temporary Access Change
Store Sales
Free Sample Of The Week March 31st – April 6th
Lesser Slayer Count Boost x1 Use Coupon Code BOOSTSLAY 1/Account
20 % OFF
Shared Bank Storage
Character Bank Upgrades
Select Storage Bags
Shared Bank: Platinum Vault
From The Dungeon
Planescape Torment: Enhanced Edition Coming In April
They Might Be Giants To Perform At Gen Con 50
On The Table Top
Pirates of the Caribbean Headed To The Tabletop
Zombies!!! 15: Another One Bites the Dust Coming Soon
First Look At Big Trouble in Little China the Game
Week in Gaming
Drac Week
Cannith
Ranger  13 (Gnome – Static Group With Mythery, Sahba Jade, Rent2Pwn, Cad)
Gainthold
Madstone Crater
The Prison of the Planes
Rogue Lvl 15  (With Pineleaf)
Reaver's Refuge
Mount Reysalon
Enter the Kobold
Dungeons & Dragons 5E
Read/Studied The Upcoming Tales From The Yawning Portal For Review
Tabletop
Three Pillars – For Review
Video Games
Planescape Torment Enhanced Edition – For Review
Pineleaf Week
Human Monk (Past Art) Level 11
Sands of Menechtarun
The Chamber of Raiyum (hireling spent all his time curing mummy rot)
Gnome warlock Level 16 (with Drac)
Reaver's Refuge
Mount Reysalon
Enter the Kobold (crazy knight's tour puzzle)
Dragonborn Favored Soul Level 3-4
Harbor
Venn's Trail: Clan Tunnelworm
Venn's Trail: Venn's Fate
Tabletop
Finally killed the Lich in One Deck Dungeon to complete the campaign
La Granja ¡No Siesta!
Lords of Waterdeep solo challenge
Donations
We currently have 22 supporters on Patreon. If you would like help support DDO Players, simply go to the donation page where you can support The Players Alliance on Patreon.   There you will find rewards including a mention on the podcast of your choice, or even guest for an episode on DDO Players News. Supporting us helps us cover the cost of the site/podcast and we are wanting to upgrade our camera, so we can better cover Gen Con, this will help us make that happen!
Feedback
iTunes Reviews
This week we did not receive any reviews but would love your support!
Featured Comments
DDOCentral left a comment on a "A Peek At Ravenloft"
Finally, a new explorer area after several years of nothing in that department.
Emails
This week we have no emails.
Contact Us
Email us!
podcast@ddoplayers.com
Follow us on Twitter!
The Players Alliance @PlayersAlly
DDO Players @DDOPlayers
Draculetta @Draculetta_72
Pineleaf @PineleafNeedles
Final Thoughts
The Players Alliance LIVE Shows
Mondays at 8:30 p.m. Eastern – DDO Players News
1st and 3rd Fridays 11pm. Eastern – XP Quest
Last Friday of Every Month at 8:30 PM Eastern – LOTRO Academy After School
Saturdays at 8:30 p.m. Eastern – LOTRO Players News
Join Us For Our Live Shows! ddoplayers.com/live/