Beamdog is no stranger to taking beloved games and doing "Enhanced Editions" They did the same for Baldur's Gate, Baldur's Gate II, and Icewind Dale, They have done the same for what many call one of the greatest rpg's of all time. Planescape Torment.
Planescape: Torment is a game set in the Dungeons & Dragons universe, using the 2nd Edition rules. And takes place in and around the city of Sigil. Also, frequently known as the City of Doors, is a city-state and the supposed center of the multiverse which includes the Prime Material Plane and all other known planes according to some forms of the Great Wheel cosmology.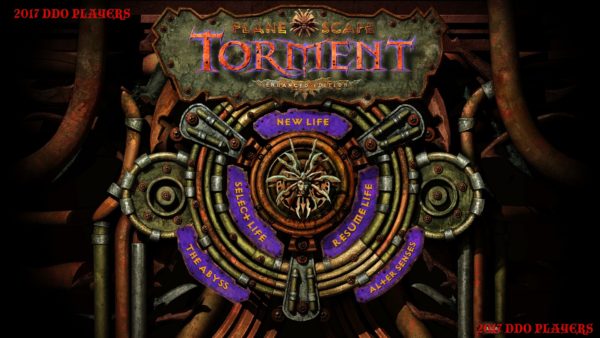 The game opens as The Nameless One awakens, with no memory of what is happening, or who he is, on a morgue slab. His body is covered in horrible scars and glyphs.
One thing of note, this "Enhanced Edition" brings nothing new game wise, there are no new characters, new quests, new story areas, all of the changes implemented into the Enhanced Edition are quality-of-life improvements. Beamdog did a great thing with these changes, and made them total an option for you, if you want to use them it's an easy check in the settings and off you go, if you want to relive the glory days your free to do that as well.  If you have a fancy 4K monitor, then you will relish in what is the all knew updated graphics, I don't have one, so I could not test this. There are several new features to Planescape that gives it a fresh new feel. You can now use the tab key to highlight interactive elements in the environment, for example. Graphically, characters have more defined outlines, have more vibrant colors and are generally more interest to look at.
The quests are all the same, if you recall fondly time spent with Planescape Torment, then you will be right here, they have fixed bugs and some type o's that persisted in the game. But the questing is still good old Planescape. The story is the same and that's where it shines, A word of note if you have never played Planescape then be prepared to read, and read A LOT. Torment has 800,000 words of dialogue, there are time where you won't have to fight, you can think and read and ROLE play your way out.  You can enjoy the freedom to explore and develop their character, to dig into the story as much as they want. You should, therefore, take your time to explore and talk to every single character before making any decisions. I do suggest that you to make sure you enjoy the brilliant writing, the jokes and comments, which to me was always what made Planescape shine in the first place.
There are a few flaws in the machine though, I did notice that Combat audio would tend to drop out in spots, it was there and then gone. The soundtrack (Which as a side note is amazing in its own right) was still playing, but I had not combat audio. Minor quibble.
Also, there were times when I would think the game had crashed as I was moving to a new area, it would just stop and sit there, then load. I'm not sure if it was just my computer or this happens to everyone, again, Minor nitpick, but it was very noticeable in a few areas.
I think there is enough here to bring new players into the fold, but enough of the original here, to keep fans engaged, and want you to run through it again.
Planescape Torment Enhanced Edition my purchased via Beamdog's site or via Steam
A copy of Planescape Torment was provided to us by Beamdog for this review, which had no effect on the outcome of the review