On the show this week, we talk about Origins and Gen Con and funding many kickstarters
Audio Only Listen And Download Link
Podcast: Play in new window | Download (62.6MB)
YouTube Watch Links
---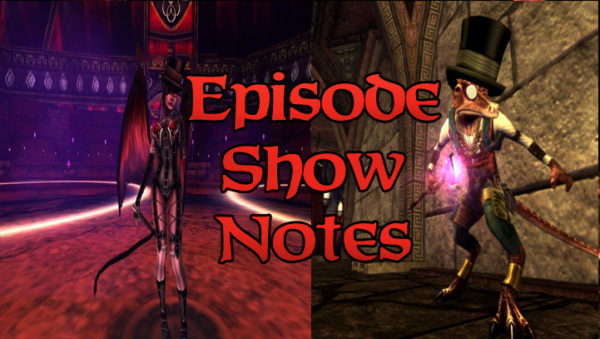 Game News
Store Sales
Free Sample Of The Week April 14th – 20th
Lasting Potion of Resist Cold (+10) x5 Use Coupon Code PUNCHCOLD 1/Account
20 % OFF
Sovereign XP Elixirs
Greater Slayer Boosts
Treasure Hunter Elixirs
Long Lasting Supreme Ability Potions
DDO Players News
Help Us Provide Better Coverage On DDO Players!
From The Dungeon
True Dungeon Comes To Origins Game Fair 2017
Gen Con 50 Expands Onto Lucas Oil Stadium Field
On The Table Top
Implements of Destruction Expansion Coming For Boss Monster
Dungeon Digger Board Game Kickstarter
Ticket to Ride: Germany Coming From Days Of Wonder
Dead Man's Doubloons Board Game Kickstarter
Week in Gaming
Drac Week
Druid Lvl 9 (reached)  (Soon To Be WolfLock) At 20 will be Dragon-Wolf-Lock
House Jorasco *Elite*
Mirra's Sleepless Nights
Redwillow's Ruins
Against the Slave Lords
Slave Pits of the Undercity
Ranger  14 (Gnome – Static Group With Mythery, Sahba Jade, Rent2Pwn, Cad)
Gianthold
Black Dragon (east)
Blue Dragon (center)
White Dragon (west)
Rogue Lvl 15  (With Pineleaf)
Eveningstar
Thorn and Paw
Overgrown
Outbreak
The Druid's Curse
Tabletop
The Goonies Adventure Card Game – Still no win, came close though
Pineleaf Week
Gnome warlock Level 17 (with Drac)
Eveningstar
Thorn and Paw
Overgrown
Outbreak
The Druid's Curse (Drac got stuck in a root)
Dragonborn Favored Soul Level 4
Marketplace
Sharn Syndicate
In Repossession, I had to do it with brute force and healing
Tangleroot Gorge
First Strike
The Hobgoblins' Captives
Tabletop
Nautilion – ran the last two modules that I had not run before
Friday – Decided it was a good Friday to play Friday – managed to squeak a win
March of the Ants – played against some rampaging centipedes
Too Many Bones – I reached the boss and was promptly squashed
Hoplomachus Origins – Started the solo challenge campaign
Video
Watched some robots discuss some bad movies.
Donations
We currently have 23 supporters on Patreon. If you would like help support DDO Players, simply go to the donation page where you can support The Players Alliance on Patreon.   There you will find rewards including a mention on the podcast of your choice, or even guest for an episode on DDO Players News.
Feedback
iTunes Reviews
This week we did not receive any reviews but would love your support!
Featured Comments
This week we have no featured comments
Emails
This week we have no emails.
Contact Us
Email us!
podcast@ddoplayers.com
Follow us on Twitter!
The Players Alliance @PlayersAlly
DDO Players @DDOPlayers
Draculetta @Draculetta_72
Pineleaf @PineleafNeedles
Final Thoughts
The Players Alliance LIVE Shows
Mondays at 8:30 p.m. Eastern – DDO Players News
1st and 3rd Fridays 11pm. Eastern – XP Quest
Last Friday of Every Month – LOTRO Academy After School
Saturdays at 8:30 p.m. Eastern – LOTRO Players News
Join Us For Our Live Shows! ddoplayers.com/live/