As RPG Players we know all the bits and pieces that we have to carry with us to game night, Dice, Books, Papers, Pens, Cards, Mini's. Just to name a few, sure you could just shove that all into a book bag and call it a day right? but what if you had something fancy to hold your precious gaming material, enter The Adventure's Kit.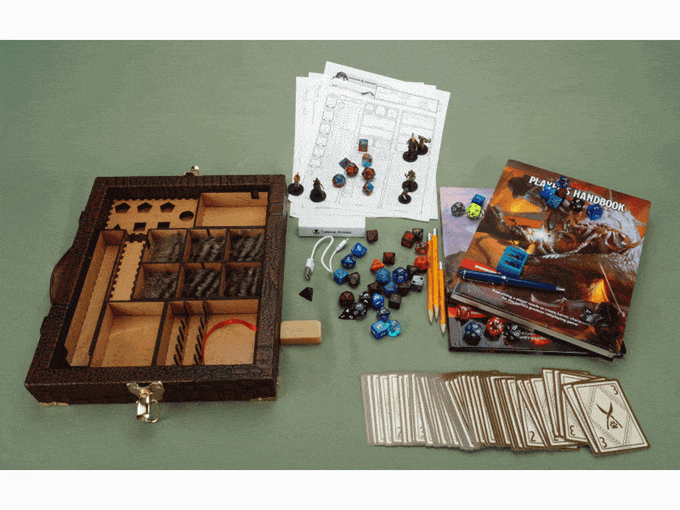 The Adventurer's Kit is a briefcase that divides in half and comes with modular sections for dice, pens and pencils (as well as a pencil sharpener), miniatures, a phone charger, cards, a rolling tray, clipboards, character sheets and books, plus brackets that clip along the edge of either half to hold up a book, phone, tablet or laptop.
The pieces can be moved around to suit different types of RPG and play style, allowing cards to be held upright and divided for easy access and clipboards for character sheets to be held above the rolling tray.
It's made from wood, lined with felt and finished outside in 'dragon' skin with a leather handle, with a variety of different colors on offer if you back the campaign.
The Adventurer's Kit comes with a:
Favorite dice section
Space for more dice
More space for Dice, or anything else you wan to place there
Place for pens and pencils
Pencil sharpener
Modular miniature box
Phone charger
Brackets for a phone or tablet
Card section for spell cards or flash cards
Large rolling tray
Clipboard for your character sheet
Brackets for the character sheet clipboard and/or book
Space to transport books to your gaming location
Adventure be warned though! You will need to dig DEEP within the coin purse for this.
Starting at $140 and running up to $265
The kickstarter funded within 2 1/2 hours, so they are on to those stretch goals, as they have (as of this posting) 31 days to go.