Arguably one of the most iconic monsters in D&D could be hanging from your ceiling, to strike fear into your family and friends. WizKids will release the Dungeons & Dragons Beholder Trophy Figure in October.
The sculpture is hand-painted for a realistic effect and features glass-like eyes for enhanced realism. Unlike earlier sculptures in the series, the Beholder Trophy Figure is not mounted on a plaque.  Instead, it is constructed with an internal structure and a hard point eyelet so the Beholder can be suspended from the ceiling to hang level. An alternative mounting eyelet at the back of the model can be used to cause the Beholder to look downward.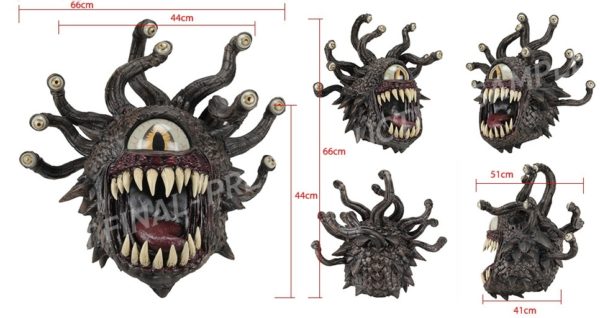 The Beholder Trophy Figure measures 66cm by 66cm by 51cm (approximately 26" x 26" x 20").  Due to the size and weight of the sculpture, WizKids recommends professional installation.  Mounting hardware is not included.  The oversized shipping box (33" x 20" x 26") weighs about 31 pounds.  The retail cost of the Beholder Trophy Figure has not been announced.