If you missed the amazing awesome that was the Dungeons & Dragons Stream of Annihilation, this weekend then you don't know what you missed, you can now find out though! WOTC has put up the videos on there twitch page.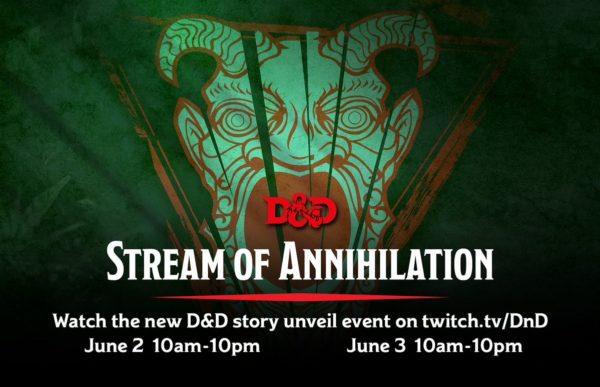 In my opinion I would suggest watching the following as I feel they were the "best" of the weekend. Everything was great, but these stick out to me as the best of the best.
Day One :
Dice, Camera, Action Episode 51
Meat Grinder Showcase
Tower of the Curator
Day Two :
Girls, Guts, Glory + DM Matt Mercer
Misscliks: Risen
Maze Arcana w/ Special Guests
I have linked them all below, and separated them out for you connivance.
-DAY ONE-
Joe Manganiello's Welcome: https://www.twitch.tv/videos/149019422
Welcome and Product Reveal: https://www.twitch.tv/videos/149020077
Dice, Camera, Action Episode 51: https://www.twitch.tv/videos/149021612
Thomas Foss on Neverwinter: https://www.twitch.tv/videos/149029458 / https://www.twitch.tv/videos/149033723
Dice, Camera, Action interview: https://www.twitch.tv/videos/149035094
C-Team Game: https://www.twitch.tv/videos/149037566
WizKids Interview: https://www.twitch.tv/videos/149069733
C-Team Interview: https://www.twitch.tv/videos/149070850
Meat Grinder Showcase: https://www.twitch.tv/videos/149074108 (With DM Chris Perkins)
Dice Tin Announcement & Dice Rituals: https://www.twitch.tv/videos/149076777
Force Grey Interview: https://www.twitch.tv/videos/149080811
One Grung Above: https://www.twitch.tv/videos/149082941 (With DM Christopher Lindsay)
D&D Beyond: https://www.twitch.tv/videos/149210701
Critical Role Interview: https://www.twitch.tv/videos/149211506
Maze Arcana: https://www.twitch.tv/videos/149212213
Fantasy Grounds: https://www.twitch.tv/videos/149213039
Tower of the Curator: https://www.twitch.tv/videos/149214990 (With DM Mike Mearls)

-DAY TWO-

Welcome, Announcemnet, & Highlights: https://www.twitch.tv/videos/149247070
Xanathar's Guide Alt Cover: https://www.twitch.tv/videos/149249623
Girls, Guts, Glory + DM Matt Mercer: https://www.twitch.tv/videos/149310127
Betrayal at Baldur's Gate Announcement: https://www.twitch.tv/videos/149310924
Girls, Guts, Glory Interview: https://www.twitch.tv/videos/149312541
HighRollers Uncharted Territory: https://www.twitch.tv/videos/149313432
Dragon Talk: https://www.twitch.tv/videos/149314272
Roll20: https://www.twitch.tv/videos/149315097
Misscliks: Risen: https://www.twitch.tv/videos/149316147
Maze Arcana Interview: https://www.twitch.tv/videos/149318353
Misscliks: Risen Interview: https://www.twitch.tv/videos/149323391
Dragon Friends: https://www.twitch.tv/videos/149485279
Gale Force Nine Interview & Neverwinter Posters: https://www.twitch.tv/videos/149486343
Dragon Friends Interview: https://www.twitch.tv/videos/149487509
Maze Arcana w/ Special Guests: https://www.twitch.tv/videos/149488922
High Rollers Interview: https://www.twitch.tv/videos/149490467
Stream of Annihilation Recap: https://www.twitch.tv/videos/149496195