This week Drac is joined by Lessah And Mythery from the Damsels, We chat about the sneak peek to Turn Undead and Cleric Domains (And Drac goes in to an rage) Also Tomb Of Annihilation is the new 5E Storyline, we talk about what we know!
Audio Only Listen And Download Link
Podcast: Play in new window | Download (71.2MB)
YouTube Watch Links
---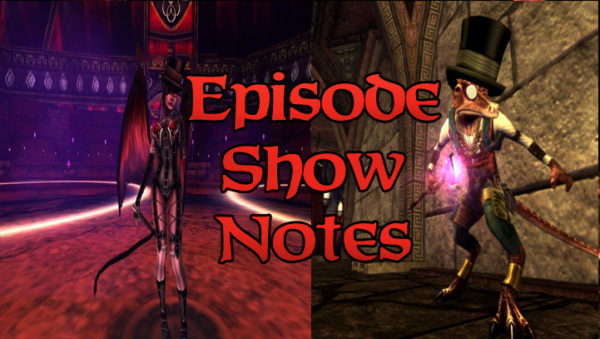 Game News
Turn Undead & Cleric Domains Sneak Peek
Store Sales
Free Sample Of The Week June 1st-8th
Bigby's Orange Guiding Hand x5 with the Coupon Code GRABBY, 1/Account
20% off:
Mirrors of Glamering
Bypass Timers
Cosmetic Outfits
Hats & Helmets
DDO Players News
Video Camera Go Fund Me Project Update
From The Dungeon
Tomb of Annihilation New Adventure For Dungeons & Dragons 5E
Xanathar's Guide to Everything Coming November Dungeons & Dragons 5E
Green Ronin Talks Critical Role: Tal'Dorei Campaign Setting Book Release Plan
On The Table Top
Avalon Hill Announces Betrayal at Baldur's Gate Board Game
Unlabeled – The Blind Beer Tasting Game On Kickstarter
Week in Gaming
Drac Week
7 Days To Die
Played In my deep hole I dug, lots or Iron
Black Desert Online
Played a bit more, for the review that is upcoming
Played a game for review.. Coverage is under embargo, so I can't say the name 🙂
Lessah Week
Baby Reaper mode!
Epic Hard Stormhorns, now I'm level 30 2nd-lifer, toying with adding either a cleric life or a fighter life and a different race for next trip to 30.
Did a little work in my personal 7DTD game that has no zombies. It's very cathartic.
Had a Fantasy Grounds gaming session and very nearly got to spend the night with identical twins. Was very sad when the guard showed up without his brother…He became 50% less interesting. When my character re-entered the room where the party was being allowed to sleep, the two tanks exchanged money over some sort of bet and one of them said "told ya. Friend-zoned"
Mythery Week
Baby Reaper mode!
Started on the Shale Mine in 7 Days To Die
Donations
We currently have 23 supporters on Patreon. If you would like help support DDO Players, simply go to the donation page where you can support The Players Alliance on Patreon.   There you will find rewards including a mention on the podcast of your choice, or even guest for an episode on DDO Players News.
Feedback
iTunes Reviews
This week we did not receive any reviews but would love your support!
Featured Comments
This week we have no featured comments
Emails
This week we have no emails.
Contact Us
Email us!
podcast@ddoplayers.com
Follow us on Twitter!
The Players Alliance @PlayersAlly
DDO Players @DDOPlayers
Draculetta @Draculetta_72
Pineleaf @PineleafNeedles
Follow Our Guests
Lessah – @Lessah
Mythery – @Mythery1
Final Thoughts
The Players Alliance LIVE Shows
Mondays at 8:30 p.m. Eastern – DDO Players News
1st and 3rd Fridays 11pm. Eastern – XP Quest
Last Friday of Every Month – LOTRO Academy After School
Saturdays at 8:30 p.m. Eastern – LOTRO Players News
Join Us For Our Live Shows! ddoplayers.com/live/