On the show this week, we talk about the upcoming Artificer changes, and breaking tables with a giant D20?
Audio Only Listen And Download Link
Podcast: Play in new window | Download (73.2MB)
YouTube Watch Links
---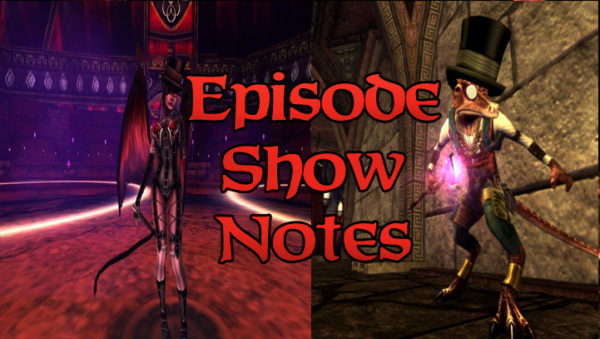 Game News
Updates On Cleric Turning Proposed Changes
U36: Artificer & Battle Engineer Changes
Store Sales
Free Sample Of The Week Now Through June 15th
Free Ruby of Combustion 30 with the Coupon Code ONFIRE
20% off:
Select Adventure Packs
Quest XP Elixirs
From The Dungeon
Modiphius Announce Star Trek RPG Pre Orders
The Tablebreaker: The Ultimate d20 On Kickstarter
On The Table Top
2017 Diana Jones Award Shortlist
12 Realms: Dungeonland Back On Kickstarter
Week in Gaming
Drac Week
Cannith
Druid Lvl 9 (Soon To Be WolfLock) At 20 will be Dragon-Wolf-Lock
Against the Slave Lords
Secret of the Slavers' Stockade
Video Games (All for review)
Renowned Explorers: International Society
Pineleaf Week
Dragonborn Favored Soul Level 5
Catacombs
Archbishop's Daughter
Return to the Sanctuary
Duality
Tangleroot Gorge
Doom of the Witch-doctor: The Way to Zulkash
Doom of the Witch-doctor: Zulkash, Herald of Woe
The Last Move: The Way to Yarkuch
The Last Move: Yarkuch's Last Stand
House Phiarlan
Human Monk (Monk 7/Warlock 6) Level 13
Gianthold
A Cabal of One (Casual)
Feast or Famine (Failed)
The Maze of Madness (Abandoned due to inability to handle doors – Compendium lies)
Trial by Fire
Marketplace
Tower of Frost (Casual – rerun a few times)
Harbor
Memoirs of an Illusory Larcener

I think I now see why hirelings are a pain here: all NPC's are limited in move
Alas, no shrines and too many opponents make end fight impossible solo+hireling
Did manage to return after death to finish with a fresh hireling
Trial of the Archons
The Archon's Trial (may be the first time I took the jump section)
Demon Assault

I have determined that one issue I have is returning to turn on my aura

The Devil's Details
Tabletop
Donations
We currently have 23 supporters on Patreon. If you would like help support DDO Players, simply go to the donation page where you can support The Players Alliance on Patreon.   There you will find rewards including a mention on the podcast of your choice, or even guest for an episode on DDO Players News.
Feedback
iTunes Reviews
This week we did not receive any reviews but would love your support!
Featured Comments
Mok Task – On Tablebreaker: Ultimate D20
How to justify a $250 block of aluminum that is really, REALLY cool……
Emails
This week we have 2 emails!
Patrick From DDO Cast sent in an email (Held from last week)
Hey guy, great job you are doing with the show!
pineleaf mentioned the orbs in Dreams of Insanity but didn't know what they do.  those are chaos orbs and they cast a random effect on you when they hit you.  This can be things like death spells (yikes!), tensers transformation, irresistable dance and so on.  They aren't always debuffs, you can get jump for instance, it's chaos! Also, pro tip, if your int or cha or wis is too low to hit the runes in that end fight, the orbs can cast the +4 stat spells on you (owl's wisdom etc)
great show!
/salute
Patrick
Shamgar
Kerkos Writes In About Dracs Favorite Subject Beer!
Hey Drac,
We have an annual party at our house that I thought you would appreciate that we call the Beer Tasting Party.  Attendees bring 2 beers to be shared as part of the competition.  These beers are kept in a separate cooler (or kiddie pool) from the other beers that folks are casually drinking as we build up to go time.  Each beer (so the two beers donated is "a beer") is given a letter for the matching game to come.  Once we're set, I type the list of beers in letter order for the right column of the ballot and have numbers with blanks for the left column.  Example:
_____ 1.         A. Fat Tire
______2.        B. O'Doul's
______3.        C. Miller Genuine Draft
Typically, we have 15-20 beers in the list.  I sit in my driveway with a beer wench or two and label small sample cups with the numbers, typically 3 oz cups.  With 20 participants, we go through quite a few cups, so be prepared!  Randomly pick a beer from the pool and pour small samples for everyone to taste.  All of the participants will get beer number 1 at the same time and attempt to determine which beer it is from the right column and put that letter next to number 1.  Important point: make sure you have an extra ballot outside with you and keep track of the beers you're serving.  This is the answer key for once the sampling is complete.
We have had years where the winner was able to only determine 5 of the 15 and years where a guy determined 15 of 16.  You might ask how you can miss one in multiple choice.  He put the same answer twice as he was unable to discern Miller Light from Coors Light, so he put the same answer twice.
As an extra piece, we ask the participants to circle the beer that was their favorite.  When we go over the answers, we make fun of folks that pick the non-alcohol brews or the Michelob Best (Beast).
We've done embroidered hats, etched beer mugs, gift cards etc for prizes for the winners.  Also, the looser (worse guesser) generally gets a booby prize that has ranged from toilet shaped shot glasses to plungers to a sympathy card and DIY nacho kit.
Kerkos
Contact Us
Email us!
podcast@ddoplayers.com
Follow us on Twitter!
The Players Alliance @PlayersAlly
DDO Players @DDOPlayers
Draculetta @Draculetta_72
Pineleaf @PineleafNeedles
Final Thoughts
The Players Alliance LIVE Shows
Mondays at 8:30 p.m. Eastern – DDO Players News
1st and 3rd Fridays 11pm. Eastern – XP Quest
Last Friday of Every Month – LOTRO Academy After School
Saturdays at 8:30 p.m. Eastern – LOTRO Players News
Join Us For Our Live Shows! ddoplayers.com/live/