No real DDO this week, we talk about the upcoming Tomb Of Annihilation Board Game, and what we have been playing this week.
Audio Only Listen And Download Link
Podcast: Play in new window | Download (65.0MB)
YouTube Watch Links
---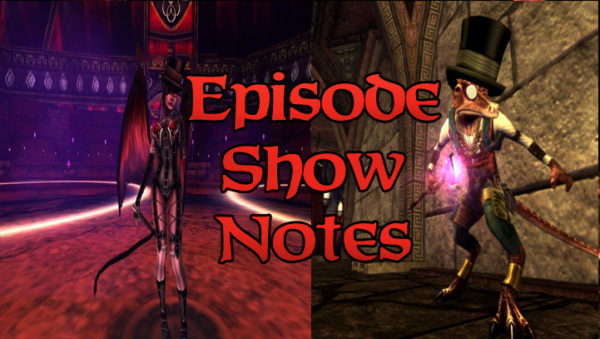 Game News
Downtime Notice: Tuesday, June 20th 9:00 AM – 12:00 PM Eastern (-5 GMT)
Store Sales
Free Sample Of The Week June 16 – June 22
Lasting Potion of Resist Fire (+10) x5 with the Coupon Code HOTFEET
20% off:
Cosmetic Armor Kits
Hats and Helmets
Augments
On The Table Top
Dungeons & Dragons: Tomb of Annihilation Adventure System Board Game
2017 Origins Awards Winner Announced
Week in Gaming
Drac Week
Cannith
Rogue Lvl 19 With Pineleaf
The Twelve
        Sane Asylum
        The Lord of Stone
        Leveled to 19
Druid Lvl 9 (Soon To Be WolfLock) At 20 will be Dragon-Wolf-Lock
Against the Slave Lords
Assault on the Aerie of the Slave Lords
Ruins of Threnal
The Western Excavation
In Need of Supplies
The Rescue
Secure the Area
The Eastern Excavation
The Library of Threnal
Escort the Expedition
Hold for Reinforcements
Pineleaf Week
Gnome warlock Level 18-19 (with Drac)
The Twelve
Sane Asylum
The Lord of Stone
Leveled to 19
Human Monklock (Monk 7/Warlock 6) Level 13
Marketplace
Gianthold
Returned to Gianthold
Prison of the Planes (Casual)

Not very diplomatic in requesting the key but my lock picking was worse
Did law, evil, fire, nature, night

Trial by Fire
Tabletop
Friday (best session – 91 points)
Donations
We currently have 22 supporters on Patreon. If you would like help support DDO Players, simply go to the donation page where you can support The Players Alliance on Patreon.   There you will find rewards including a mention on the podcast of your choice, or even guest for an episode on DDO Players News.
Feedback
iTunes Reviews
This week we did not receive any reviews but would love your support!
Featured Comments
DDO Central On Dungeons & Dragons: Tomb of Annihilation Adventure System Board Game
Wizards of the Coast's constant promotion of Neverwinter isn't all bad as at least some of the new Neverwinter players eventually find out about DDO. 🙂
Mok Taskmaster On Geek Chic Ceases Operations
Well, this is indeed sad news. Seeing Geek Chic at Gencon has been a mainstay stop for me on the dealer hall show floor. I've often coveted their tables, because they were indeed quite amazing.
There are quite a few game-table companies in the marketplace now, but I'm not sure any of them are quite as 'chic' as the Geek Chic tables were. They will be missed.
Emails
This week we have no emails.
Contact Us
Email us!
podcast@ddoplayers.com
Follow us on Twitter!
The Players Alliance @PlayersAlly
DDO Players @DDOPlayers
Draculetta @Draculetta_72
Pineleaf @PineleafNeedles
Final Thoughts
The Players Alliance LIVE Shows
Mondays at 8:30 p.m. Eastern – DDO Players News
1st and 3rd Fridays 11pm. Eastern – XP Quest
Last Friday of Every Month – LOTRO Academy After School
Saturdays at 8:30 p.m. Eastern – LOTRO Players News
Join Us For Our Live Shows! ddoplayers.com/live/