We talk about the upcoming changes that are planned for Update 36, and compare Origins to Gen Con.
Audio Only Listen And Download Link
Podcast: Play in new window | Download (68.1MB)
YouTube Watch Links
---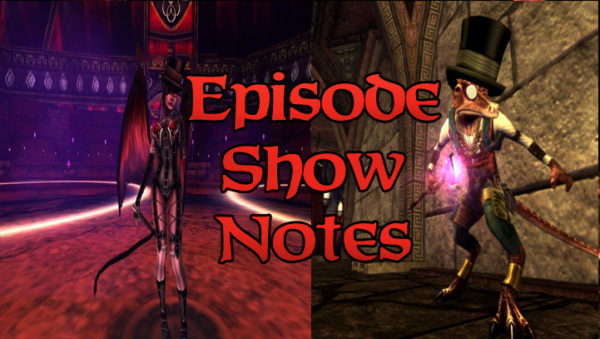 Game News
Upcoming Systems Changes for U36
Store Sales
Free Sample Of The Week Now-June 29th
Bell of Opening with the Coupon Code KNOCKKNOCK
Get 20% off:
Astral Shards
Guild Renown Elixirs
Get 50% off:
Guild Charters
Guild Airship Beacons
From The Dungeon
Origins Game Fair Sees Attendance Spike
Gen Con Approaching Badge Sellout for Historic 50th Convention
On The Table Top
Hasbro Shows Off First Gaming Crate Games
2017 Kinderspiel des Jahres winner Announced
Planet of the Apes: The Miniatures Board Game Coming To Kickstarter Soon
Week in Gaming
Drac Week
Rogue Lvl 18 (With Pineleaf)
The Twelve
Inspired Quarter
Eye of the Titan
Reclaiming Memories
Mining for Ancient Secrets
Raiding the Giants' Vault
Video Games
7 Days To Die
We started over with the new Alpha Build. Moved onto an island, building a nice homebase. Got killed by Vultures many times. Hot Cheerleader Zombie Is The New Hot Nurse Zombie. Myth and Lessah built a bridge to the other side of the lake that was in there words "Drac Proof"
Tabletop
Pineleaf Week
Gnome warlock Level 18 (with Drac)
The Twelve
Inspired Quarter
Eye of the Titan
Reclaiming Memories
Mining for Ancient Secrets
Raiding the Giants' Vault
Human Monk (Monk 7/Warlock 6) Level 13
Gianthold
Returned to Gianthold – finished various slayers
Tower of Frost (again)
A Cabal of One (casual, again)
Tabletop
Friday – First win at level 2
Donations
We currently have 22 supporters on Patreon. If you would like help support DDO Players, simply go to the donation page where you can support The Players Alliance on Patreon.   There you will find rewards including a mention on the podcast of your choice, or even guest for an episode on DDO Players News.
Feedback
iTunes Reviews
This week we did not receive any reviews but would love your support!
Featured Comments
MOKTask On Origins Attendance
While it doesn't 'feel' crowded, there were certainly more people there this year than last. The dealer hall had more people to 'weave' through, but still you could stop and have conversations without blocking anyone else. You almost can't stop by some booths at Gen con, because you will be trampled (or hear people talking directly to you)
As I told my friends, to compare Origins and Gen con.
Gen con is like a Tarrasque while, Origins is more like a Siren. Both will certainly kill you dead. But the Tarrasque will stomp your guts in, and Origins just lures you into a false sense of security and drains you slowly.
I enjoy both conventions quite a bit, and if a person identifies themselves as a 'gamer' and has the means, should go to both.
Emails
This week we have no emails.
Contact Us
Email us!
podcast@ddoplayers.com
Follow us on Twitter!
The Players Alliance @PlayersAlly
DDO Players @DDOPlayers
Draculetta @Draculetta_72
Pineleaf @PineleafNeedles
Final Thoughts
The Players Alliance LIVE Shows
Mondays at 8:30 p.m. Eastern – DDO Players News
1st and 3rd Fridays 11pm. Eastern – XP Quest
Last Friday of Every Month – LOTRO Academy After School
Saturdays at 8:30 p.m. Eastern – LOTRO Players News
Join Us For Our Live Shows! ddoplayers.com/live/