We talk about Update 36 on Lamannia, And the gathering for buffs event at Gen Con 2017!
Audio Only Listen And Download Link
Podcast: Play in new window | Download (57.7MB)
YouTube Watch Links
---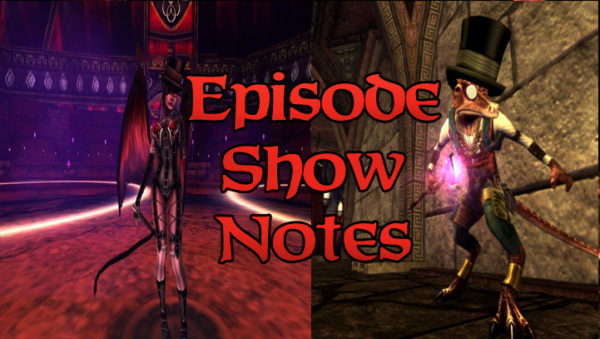 Game News
Community News
DDOCast Summer Scavenger Hunt 2
Store Sales
Free Sample Of The Week Now – July 6th
Cannith Essences x25 with the Coupon Code Craft4Cannith
20% off:
Sovereign XP Elixirs
Treasure Hunter Elixirs
Greater Slayer Boosts
Long Lasting Supreme Ability Potions
Summer Sails begins! now through July 6th!
25% off
50% off
Bigby's Guiding Hands and +3 Hearts of Wood
75% off
DDO Players News
From The Dungeon
Top Secret: New World Order Kickstarter
On The Table Top
Axis & Allies Anniversary Edition Reprint On The Way
Hunt For The Ring Coming From Ares Games
On The Screen
Live Action Death Note Trailer
Week in Gaming
Drac Week
Druid Lvl 10 (Soon To Be WolfLock) At 20 will be Dragon-Wolf-Lock
Ruins of Threnal
The Abandoned Excavation (South) Hard
The Missing Expedition
Entering the Gate Chamber
The Gate Chamber
House Jorasco Hard
House Phiarlan Hard
Rogue Lvl 19  (With Pineleaf) Lamannia
Tethyamar Mining Outpost
Third Time's a Charm (tough start)
Graveyard Shift
Records of the Past
Video Games
7 Days To Die
We had to start over, there was a new build, that forced us to restart the server/world
Prevent The Fall (For Review)
Pineleaf Week
Gnome warlock Level 19 (with Drac on Lamania)
Tethyamar Mining Outpost
Third Time's a Charm (tough start)
Graveyard Shift
Records of the Past
Human Monk (Monk 7/Warlock 6) Level 13
Gianthold
Feast or Famine – The zone at the exit is brutal
Reached level 14
Marketplace
Tower of Frost (normal when I hit 14 – the boss fight is much tougher)
Devil's Gambit
Subversion
Multitude of Menace
Tabletop
MTG Solo challenges
Shahrazad
LOTR Card Game
Donations
We currently have 22 supporters on Patreon. If you would like help support DDO Players, simply go to the donation page where you can support The Players Alliance on Patreon.   There you will find rewards including a mention on the podcast of your choice, or even guest for an episode on DDO Players News.
Feedback
iTunes Reviews
This week we did not receive any reviews but would love your support!
Featured Comments
Over On YouTube – DDO Players News Episode 137 A Drac Proof Bridge
Musky Elon
Good show guys. I'm now happy I haven't played a warlock yet. I won't have anything to compare it to.
KnightofAntiquity
Frankly people were crying because they wanted the racial reincarnations afap
Emails
This week we have no emails.
Contact Us
Email us!
podcast@ddoplayers.com
Follow us on Twitter!
The Players Alliance @PlayersAlly
DDO Players @DDOPlayers
Draculetta @Draculetta_72
Pineleaf @PineleafNeedles
Final Thoughts
The Players Alliance LIVE Shows
Mondays at 8:30 p.m. Eastern – DDO Players News
1st and 3rd Fridays 11pm. Eastern – XP Quest
Last Friday of Every Month – LOTRO Academy After School
Saturdays at 8:30 p.m. Eastern – LOTRO Players News
Join Us For Our Live Shows! ddoplayers.com/live/