Brace yourself, winter is coming!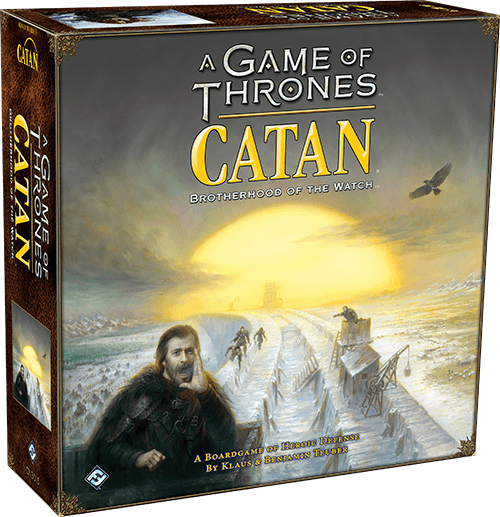 Fantasy Flight Games announces a new game set in the bountiful world of Westeros; A Game of Thrones Catan: Brotherhood of the Watch. This will be a standalone game of resource gathering and trading that is familiar to those that know the classic game Catan, but will offer many differences inspired and adapted from George R. R. Martin's A Song of Ice and Fire series.
The Brothers of the Night's Watch seek a new leader from among their ranks. Jeor Mormont wishes to promote one who can improve the infrastructure of the Gift, the bountiful and undeveloped area south of the Wall bestowed to the Watch by the Starks thousands of years ago. Drawing sustenance from the unforgiving landscape of the north offers enough challenges, but whomever takes up this task must also man and defend the Wall against the onslaught of Wildlings fighting their way into Westeros. Many brothers now compete to build, defend, and do what they can to protect Westeros, but only one shall rise above their brothers to become the new Lord Commander. But be wary—the north holds many dangers, and winter is coming.
House Stark bestowed the Gift to the Night's Watch when the Order was first founded thousands of years ago. By right, this area belongs to the Watch to supply provisions to the stalwart brothers who guard Westeros from the north. In game, each of these areas supplies one of five resources: lumber, brick, wool, grain, and ore. The barren Ice Fields, however, produce nothing.
Players take on the role of Brothers of the Night's Watch and use these resources to strengthen their hold on the north by building roads, settlements, and keeps; recruiting guards for their patrol; or buying Development Cards. Each of these acts bring players increased power and recognition through the awarding of victory points. The objective will be familiar to players of the original Catan—the first player to achieve ten victory points wins the game and becomes the new Lord Commander of the Night's Watch.
But this is not as easy as it sounds; the area surrounding the Gift can be treacherous. Wildings from north of the Wall have crossed over, and follow their own rules of honor which often conflict with the laws of Westeros. One of their ranks, Tormund Giantsbane, does not respect the Watch's claim to the land as he moves throughout the Gift, robbing resources from the Brothers sent to provide for their Order.
Look for A Game of Thrones Catan: Brotherhood of the  Watch at your FLGS Q4 of 2017, those attending Gen Con 50 can demo game the Fantasy Flight Games Booth.