We talk about Update 36, Ravenloft and Gen Con
Audio Only Listen And Download Link
Podcast: Play in new window | Download (80.4MB)
YouTube Watch Links
---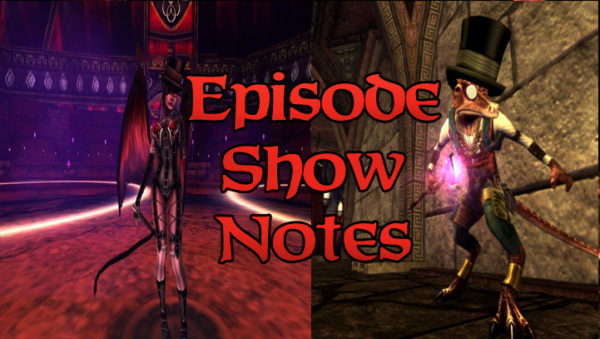 Game News
Update 36:Duel for the Underdark Release Notes
Update 36 Named Item Information
Store Sales
Free Sample Of The Week NOW – Through July 20th
Lasting Potion of Resist Fire (+10) x5 with the Coupon Code SAYNO2FIRE
20% off
Select Stat and Skill Tomes
Tomes of Heroic and Epic Learning
Harper Agent Enhancement tree
Summer Sails Week Three! Get:
35% off
50% off
Vale of Twilight Pack
Sovereign Guild Renown Elixirs
75% off
DDO Players News
Could This Be The Ravenloft Pricing?
From The Dungeon
Tunnels & Trolls Adventures to Launch on August 17th
Critical Role: Tal'Dorei Campaign Setting D&D 5E Pre-Order Now Available
On The Table Top
Dracula's America: Shadows of the West
Spiel and Kennerspiel des Jahres Winners Announced
On The Screen
Wild West Online Shows Off First Gameplay Video
Stranger Things Season 2 Is Coming Sooner Than We Thought
New Doctor Who Teased By The BBC, And Something Is Different
Week in Gaming
Drac Week
Ranger Lvl 21
Eveningstar
Menace of the Underdark: The Darkening (Epic Lvl 21)
Impossible Demands
The Unquiet Graves
Kings Forest Slayers
The Mines of Tethyamar
Third Time's a Charm
Rogue Lvl 19 (With Pineleaf)
Eveningstar
The High Road
Detour
Rest Stop
Lost in the Swamp
Dungeons & Dragons 5E
Some DM Prep for dungeon I'm going to run my friends and his kids through, as we jump back into our Storm Kings' Thunder sessions. Our goal is try to be done are close to the end in time to jump right into Tomb Of Annihilation when it comes out.
Video Games
7 Days To Die
Started Over 2 times
House Party
Started playing a game that I'm going to do a Let's Play for my YT Channel called House Party. (Was provided a key for review, but the game does not fit well with the site, so decided to do an Let's play instead! And will review it on my YT (Adult Themes)
Pineleaf Week
Gnome warlock Level 19 (with Drac)
Eveningstar
The High Road
Detour
Rest Stop
Lost in the Swamp
Tabletop
Friday (won another Level 2 game so I bumped it up to Level 3)
Lord of the Rings Card Game
Minecraft
Completed my town build
Headed for the island where I will be building my base – it's a looong way out.
Donations
We currently have 22 supporters on Patreon. If you would like help support DDO Players, simply go to the donation page where you can support The Players Alliance on Patreon.   There you will find rewards including a mention on the podcast of your choice, or even guest for an episode on DDO Players News.
Feedback
iTunes Reviews
kalasoppa Left a FIVE Star review on iTunes Finland!
Great DDO themed podcast
I always look forward to a new episode from Pineleaf and Drac, who have become key members of the DDO podcast community. Their perspective on the game is a bit different (somewhat more casual) from mine, which is great and has a positive impact on my gameplay too. The podcast has branched out to cover table top and other gaming beyond DDO, but I won't hold that against them. 🙂 My favourite episodes of Players News (and DDOCast and Damsels) are the ones where they visit each others' shows. The production quality is top notch, so a pleasure on the ears as well as on the brain.
Featured Comments
Jeff On Could This Been Ravenloft Pricing
When you purchased either MotU or SC you could purchase 11,000 DDO points for $59.99 and there was an upgrade offer for SC for $39.99.
Many players spent $159.97 on SC.
Emails
This week we have no emails.
Contact Us
Email us!
podcast@ddoplayers.com
Follow us on Twitter!
The Players Alliance @PlayersAlly
DDO Players @DDOPlayers
Draculetta @Draculetta_72
Pineleaf @PineleafNeedles
Final Thoughts
The Players Alliance LIVE Shows
Mondays at 8:30 p.m. Eastern – DDO Players News
1st and 3rd Fridays 11pm. Eastern – XP Quest
Last Friday of Every Month – LOTRO Academy After School
Saturdays at 8:30 p.m. Eastern – LOTRO Players News
Join Us For Our Live Shows! ddoplayers.com/live/