It's always great to see when a successful Kickstarter, transits into the retail sector, and this is just the case with 5 Minute Dungeon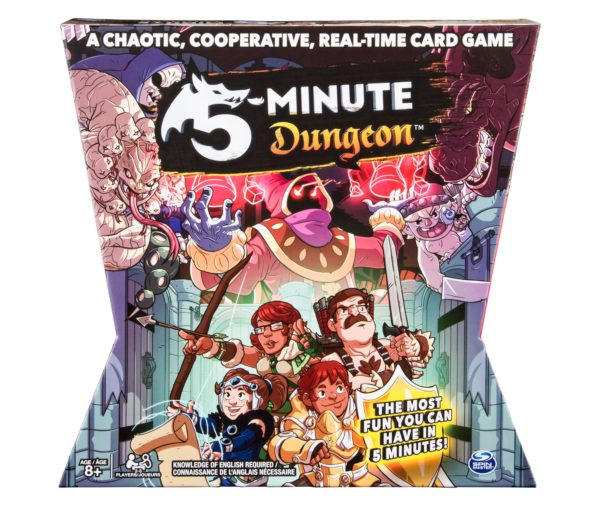 Wiggles 3D Games has partnered with Spin Master Games, to produce and sell the retail version of 5-Minute Dungeon.
5-Minute Dungeon is a co-operative, real-time dungeon crawling card game for 2-5 players that plays in 5 minutes, and was successfully funded on Kickstarter last year with almost 8,000 backers.
The retail version has an all-new cover in a unique hourglass-shaped box and comes with:
200 player cards (5 decks of 40 cards each)
50 dungeon cards (40 door cards and 10 challenge cards)
5 double sided player mats (10 heroes total)
5 boss mats
Of course, the retail version doesn't include the extra content added during the campaign (the Kickstarter deck, Baby Barbarian figurine, and 2 Kickstarter boss mats), but still, has the same high-quality components as the Kickstarter edition.
It's listed on both Target.com and Amazon.com but both are showing out of stock.
For those that are attending Gen Con 50 in a few weeks, you will be able to grab the game there as well, Spin Master Games (Booth #2727) will feature, 5-Minute Dungeon is a frantically fast-paced cooperative strategy game where you have five chaotic minutes to work together and defeat the dungeon. It's the most fun you can have in 5 minutes! Get a free limited edition Baby Barbarian collectible figurine with booth purchase of 5-Minute Dungeon. 8,000 Kickstarter backers loved it, and you will too! 5 Minute Dungeon will be sold at discounted convention price.