We talk about the update 1 to U36 and our plans for Gen Con!
Audio Only Listen And Download Link
Podcast: Play in new window | Download (59.7MB)
YouTube Watch Links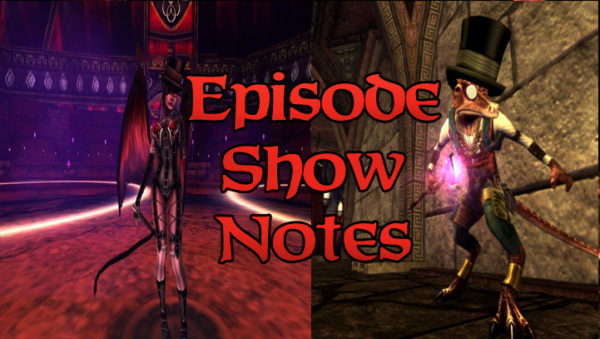 Game News
Update 36 Patch 1 Release Notes
Store Sales
20% off:
Select Reincarnation Hearts
Healing Items
Spell Point Potions
Quest XP Elixirs
Summer Sails Week 4 is here!
35% off
50% off
Character Slots
Ruins of Gianthold Adventure Pack
75% off
Free Sample Of The Week
Lesser Slayer Count Boost x1 with the Coupon Code DATSLAYCOUNT, now through July 27th!
DDO Players News
Gen Coverage Is Coming!
DOO Players Gen Con Coverage Brought To You By The Skullsplitter Dice Company, Visit Them HERE
From The Dungeon
Table Of Ultimate Gaming Coming To Kickstarter
Gen Con 50 Sells Out Of Saturday Badges
On The Table Top
Fireside Games Announces The Smash And Burn Tour
Two Animal-Themed Games Coming From Mayfair Games
On The Screen
Middle-earth: Shadow of War Shelob Makes Her Debut
Stranger Things Season 2 Full Trailer
Week in Gaming
Drac Week
Ranger Lvl 21
The Mines of Tethyamar
Third Time's a Charm
Graveyard Shift
Records of the Past
Strike Back
Desire in the Dark
Rogue Lvl 19 (With Pineleaf)
The Mines of Tethyamar
Third Time's a Charm
Graveyard Shift
Video Games
7 Days To Die
Survived our first horde night (Day 7)
Raided a town,
Patrick and I raided and made it all the way to the top of the construction site (Vertical Dungeon) All most died, fell off a few times, Crazy times. Lots of Zed's all round.
Pineleaf Week
Gnome warlock Level 19 (with Drac)
Tethyamar Mining Outpost
Third Time's a Charm (still a tough start)
Graveyard Shift
Minecraft
Tunnel building in the Nether
Tabletop
Friday (first win at Level 3)
Lord of the Rings Card Game
LOTRO
Intro for Corey in the weekly Exploring Middle-earth session
Donations
We currently have 22 supporters on Patreon. If you would like help support DDO Players, simply go to the donation page where you can support The Players Alliance on Patreon.   There you will find rewards including a mention on the podcast of your choice, or even guest for an episode on DDO Players News.
Feedback
iTunes Reviews
This week we did not receive any reviews but would love your support!
Featured Comments
This week we have no featured comments
Emails
This week we have no emails.
Contact Us
Email us!
podcast@ddoplayers.com
Follow us on Twitter!
The Players Alliance @PlayersAlly
DDO Players @DDOPlayers
Draculetta @Draculetta_72
Pineleaf @PineleafNeedles
Final Thoughts
The Players Alliance LIVE Shows
Mondays at 8:30 p.m. Eastern – DDO Players News
1st and 3rd Fridays 11pm. Eastern – XP Quest
Last Friday of Every Month – LOTRO Academy After School
Saturdays at 8:30 p.m. Eastern – LOTRO Players News
Join Us For Our Live Shows! ddoplayers.com/live/