We talk about Gen Con, Crowds, Social Anxiety and classic video games this week on the show.
Audio Only Listen And Download Link
Podcast: Play in new window | Download (77.4MB)
YouTube Watch Links
---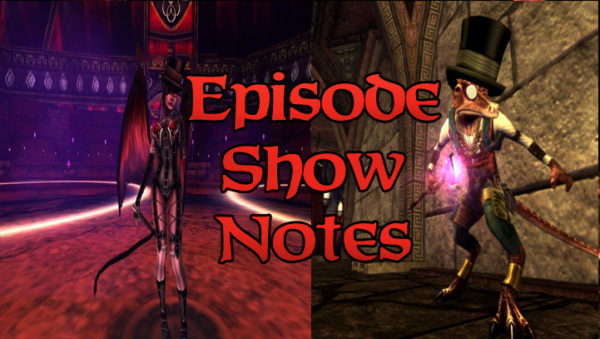 Game News
Store Sales
20% off:
Treasure Hunter Potions
Select Crafting Items
Custom Cosmetics
Augments
The final week of Summer Sails is upon us! Get:
35% off
50% off
The Demon Sands adventure pack
Huge Hireling Contract Folder
75% off
Tomes of Skill +4
Traveler's Terrific Trunk
From The Dungeon
D&D Helps Push Hasbro Sales Up
On The Table Top
Burger Time: The Card Game On Kickstarter
On The Screen
Cult Classic Video Game Night Trap Is Coming Back
Fighting Fantasy Legends Out Now
Week in Gaming
Drac Week
Shadar-Kai Lvl 19
The Mines of Tethyamar
Third Time's a Charm
Graveyard Shift
Warlock Lvl 13
House Jorasco
The Enemy Within
The Graverobber
Dead Predators
Rogue Lvl 19 (With Pineleaf)
Video Games
Warhammer Quest
Blood Bowl 2
House Party
Pathfinder Adventures (For Review)
7  Days To Die
Started a game with a friend (He's never played) the first time he spawns into the world, a Zombie Vulture ate him.
Then we found a house that was are going to use for our "temporary" base, as we were looting the house, he dies, he just starts laughing, and says, so it's possible to eat glass.
Pineleaf Week
Gnome warlock Level 19 (with Drac)
Tethyamar Mining Outpost
Records of the Past
Strike Back
Tabletop
Minecraft
Tunnel building
Found a route to my base through the Nether
Donations
We currently have 22 supporters on Patreon. If you would like help support DDO Players, simply go to the donation page where you can support The Players Alliance on Patreon.   There you will find rewards including a mention on the podcast of your choice, or even guest for an episode on DDO Players News.
Feedback
iTunes Reviews
This week we did not receive any reviews but would love your support!
Featured Comments
EvenNote On Gen Con 50 Sunday SOLD OUT
I picked a good time to attend my first con, huh? LOL
Seriously can't wait until August 17!
Emails
This week we have no emails.
Contact Us
Email us!
podcast@ddoplayers.com
Follow us on Twitter!
The Players Alliance @PlayersAlly
DDO Players @DDOPlayers
Draculetta @Draculetta_72
Pineleaf @PineleafNeedles
Final Thoughts
The Players Alliance LIVE Shows
Mondays at 8:30 p.m. Eastern – DDO Players News
1st and 3rd Fridays 11:59 pm. Eastern – XP Quest
Last Friday of Every Month – LOTRO Academy After School
Saturdays at 8:30 p.m. Eastern – LOTRO Players News
Join Us For Our Live Shows! ddoplayers.com/live/