It's been awhile since we have talked about Vampyr, the upcoming turn-of-the-20th-century game about life, death, morality, and bloodsucking. It was set for release in November, but that has been pushed to spring of next year.
Oskar Guilbert, CEO of DontNod Entertainment, explains:
"Delaying the release of a project you hold dear is always a tough decision. However, we believe that meeting a deadline should never compromise quality. We were still convinced just a few weeks ago that we would be able to release Vampyr this year. Unfortunately, a technical issue – now solved – has set our teams' schedule back at the end of the development.

This delay allows us enough time for all the polishing and balancing phase, much needed for a game of Vampyr's scope, with its ambitious, semi-open world, its complex narrative and deep RPG mechanics that give players a real impact on the world.

We want to thank our publisher Focus Home Interactive for giving us the means and time necessary to provide players a memorable experience… especially since so many of you are eagerly waiting for it."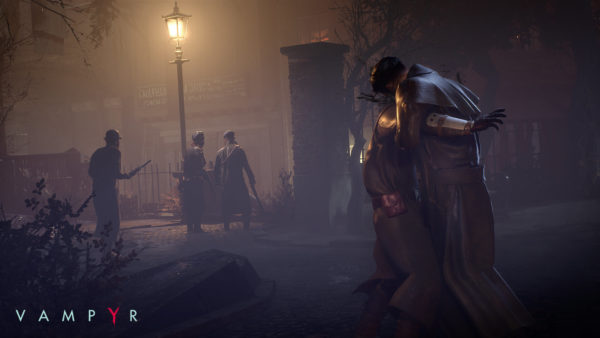 About Vampyr
Prowl the disease ridden streets in Vampyr, a darkly atmospheric action RPG from the studio behind Remember Me and Life is Strange, developed using Unreal Engine 4. Set in early 20th century Britain during a bout of the lethal Spanish flu, the streets of London are crippled by disease, violence, and fear. In a completely disorganized and ghostly city, those who are either fools, desperate, or unlucky enough to walk the streets lay prey to Britain's most elusive predators: the Vampires. Emerging from the chaos, a tormented figure awakes; as the player, it is you who determines how to harness your new powers by specializing in deadly, versatile RPG skill-trees that change the way you play. As a doctor recently turned into a Vampire, you try to understand your new affliction. Your quest of intuition, discoveries, and struggles will be filled with death and drama while you attempt to stem the irrepressible thirst that constantly drives you to take human lives. As you cling to what remains of your humanity, your decisions will ultimately shape the fate of your hero while you search for answers in the coughing, foggy aftermath of the Spanish Flu.
Key Features
Explore a darkly atmospheric early 20th century London
Play a tormented and powerful Vampire learning the rules of his new condition―a man of science, a beast of the night: Your toughest battles will be within yourself
Build your own combat style through a wide range of crafted weapons and powerful Vampire abilities to defeat a large and unique bestiary
Moral choices will shape your story: How human can a Vampire be when he must feed?
Vampyr will be available Spring 2018 on PlayStation 4, Xbox One, and PC.