We told you that WizKids announced the Tomb Of Annihilation Board Game, Back during the "Stream Of Annihilation", we now have a release date the board game, it's it's very soon.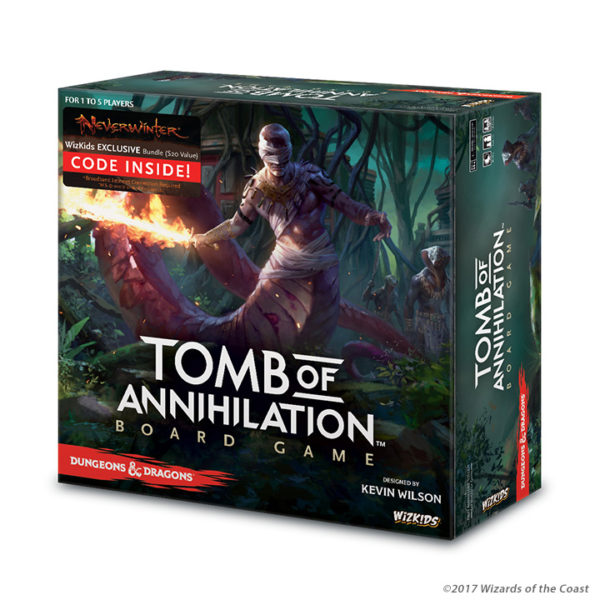 The death curse grows and the souls of the world are in peril! Are you ready for adventure?
In the Tomb of Annihilation Adventure System Board Game, you play a heroic adventurer. With amazing abilities, spells, and magic weapons, you must explore the jungles of Chult, as well as the Tomb of the Nine Gods, where you will fight monsters, overcome traps and find treasure.
Featuring:
42 Miniatures
3 Misty Arch standees
2 Devil Face standees
5 Hero tiles
4 Villain tiles
1 rulebook
1 adventure book
1 20-sided die
40 interlocking Dungeon Tiles
5 double-sized interlocking Special tiles
225 cards
Over 300 tokens
Following in the path of the other critically-acclaimed D&D board games, Tomb of Annihilation features multiple scenarios, challenging quests and gameplay designed for a single player or a cooperative group of 2-5 players. The Tomb of Annihilation Adventure System Board Game features new trap and spell decks for even more exciting gameplay content! That's not all: monsters can now gain conditions!
Tomb of Annihilation can also be combined with the other D&D Adventure System Cooperative Play Board Games, including the terrifying Temple of Elemental Evil, The Legend of Drizzt, Castle Ravenloft, and Wrath of Ashardalon, to create an even more exciting experience.
The game will release October 18th. It can be preordered at your FLGS now, or you may order pre-order via Amazon
Look for our full unboxing video and review coming soon after release!
*Note the above links are Amazon AFFILIATE LINKS, DDO Players will get a small percent of the sale, this is another way you can help support the site*