We Talk Mimics and Update 36 Patch 2 This Week.
Audio Only Listen And Download Link
Podcast: Play in new window | Download (61.5MB)
YouTube Watch Links
---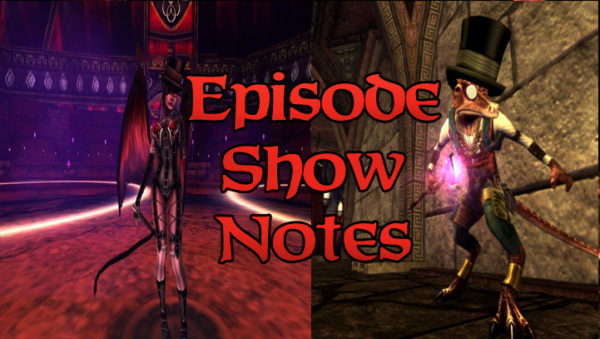 Game News
The Mimic Hunt Returns! Now Through Oct 8th
Upcoming Ravenloft Expansion Titled Mists Of Ravenloft
Store Sales
35% off:
Character Banks
Shared Banks, Deposit Box, and Plat Storage
Inventory Space
Bags
Free Sample Of The Week NOW – October 5th
Enchanted Repair-All Kit with the Coupon Code MRFIXIT
On The Table Top
Interview With Shelly Mazzanoble Of Avalon Hill/WOTC
Munchkin Magical Mess Coming From Steve Jackson Games
On The Screen
Ticket to Ride: First Journey Now Available Steam And Mobile
Week in Gaming
Drac Week
Druid Lvl 10 (Soon To Be WolfLock) At 20 will be Dragon-Wolf-Lock
Harbor
Irestone Inlet (Five Times)
Ranger Lvl 21
Duel for the Underdark
The Mines of Tethyamar
Rogue Lvl 20 (With Pineleaf)
Eveningstar
The Tracker's Trap
Storm Horns
Lines of Supply
Video Games
Ark: Survival Evolved
Ogre (Beta Press Build)
Pineleaf Week
Gnome warlock Level 20 (with Drac)
Eveningstar
The Tracker's Trap
Storm Horns Owlbear Pet
Lines of Supply
Dragonborn Artificer Level 3
The Harbor
Bringing the Light
The Miller's Debt (double mimics – fortunately, made a stabilization roll)
The Cerulean Hills

Where There's Smoke (Mimics even taking over the ham chests)
The Captives

Protecting Baudry's Interests – reached level 4
Tabletop
Minecraft
Tidying up the top floor of the temple
Decided to participate in the October Minecraft Hardcore Challenge – Igloos
Donations
We currently have 22 supporters on Patreon. If you would like help support DDO Players, simply go to the donation page where you can support The Players Alliance on Patreon.   There you will find rewards including a mention on the podcast of your choice, or even guest for an episode on DDO Players News.
Feedback
iTunes Reviews
This week we did not receive any reviews but would love your support!
Featured Comments
This week we have no featured comments
Emails
This week we have no emails.
Contact Us
Email us!
podcast@ddoplayers.com
Follow us on Twitter!
The Players Alliance @PlayersAlly
DDO Players @DDOPlayers
Draculetta @Draculetta_72
Pineleaf @PineleafNeedles
Final Thoughts
The Players Alliance LIVE Shows
Mondays at 8:30 p.m. Eastern – DDO Players News
Last Friday of Every Month – LOTRO Academy After School  On Hiatus
Saturdays at 8:30 p.m. Eastern – LOTRO Players News
Join Us For Our Live Shows! ddoplayers.com/live/
Next week will be our 150th Episode/3 Year Anniversary of the site, Community Manager Cordovan will be joining us!