They have survived Chult so far, but will they survive the tomb of the nine gods?
The finale of the second season of Force Grey will be broadcast live from New York City on November 18 at 3pm ET.
Force Grey: Survive the Tomb will pit the star-studded cast of Joe Manganiello (True Blood, Magic Mike), Deborah Ann Woll (True Blood, Marvel's Daredevil), Dylan Sprouse (Zack & Cody), and Utkarsh Ambudkar (The Mindy Project, Pitch Perfect) against the machinations of the lich Acererak and Dungeon Master Matthew Mercer (Overwatch, Critical Role).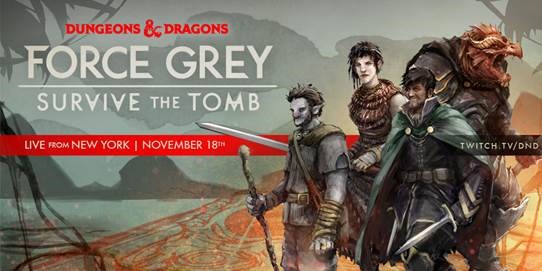 D&D fans in the NYC area – here's your chance to watch some of the world's most entertaining storytellers play Dungeons & Dragons live at Villain in Williamsburg, Brooklyn!
Fans can grab tickets for the event on Ticketfly to watch it in person. For limited time, tickets to see Force Grey: Survive the Tomb are $20 and VIP seating includes a copy of Xanathar's Guide to Everything for $65. D&D fans around the world can watch Force Grey: Survive the Tomb exclusively on twitch.tv/dnd.
Force Grey, the elite adventuring party from the city of Waterdeep, debuted last year on Force Grey: Giant Hunters. To celebrate the Tomb of Annihilation D&D adventure storyline in stores now, the second season, Force Grey: Lost City of Omu, has been broadcasting episodes every Monday night at 5pm PT exclusively on Twitch. After 18 episodes, Force Grey: Survive the Tomb will wrap up the season as the adventurers head into the Tomb of the Nine Gods and confront whatever horrors await them. Catch up on all that's happened so far in the Force Grey: Lost City of Omu collection here on Twitch.