We are joined by Patrick from DDOCast this week, as we talk about Ravenloft and get our week 2 "Strahdvent" reading from Madam Eva
Audio Only Listen And Download Link
Podcast: Play in new window | Download (97.2MB)
YouTube Watch Links
---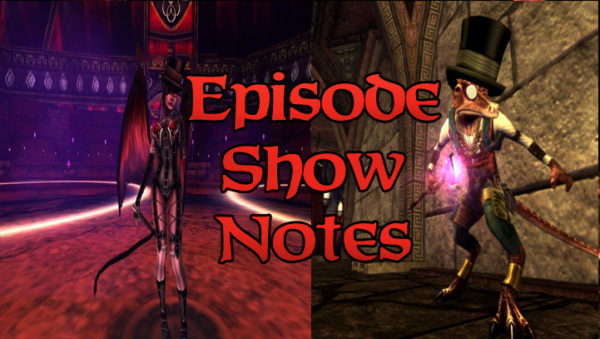 Game News
Update 36 Patch 4 Release Notes
DDOCast Ravenloft Pre Purchase Breakdown Crunch Tables  (Could not think of a better name)
#Strahdvent Week #2 (Drac Will Play Audio File)
Strahd DDO Wallpaper Available
Store Sales
Get 25% off:
Astral Shards
Guild Renown Elixirs
Get 50% off:
Guild Charters
Guild Airship beacons
Free Sample Of The Week Now – November 2nd
Long Lasting Potion of Jumping (+20) x5 with the Coupon Code LEAPINGFUN
DDO Players News
DDO Players Poll – Which Mists Of Ravenloft Bundle Are You Buying?
Qeistalan
I purchased the Ultimate Fan Pack. I am disappointed with the cost-to-value; as-is, it is overpriced.
The Ultimate Fan Pack should have, at the very least, included DDO Store points.
Ideally, the UFP should have included an Otto's Stone, giving you the option of heroic or epic XP.
Joel
I will sadly wait for March to buy it for DDO Points I already have. The ultimate/collector pack offers almost nothing interesting and getting the standard edition would mean that I pay $40 for something I will get for no additional cost in March.
What a wasted opportunity to make money and create good will.
Lori Lavelle
Honestly not sure yet. I kind of want the Ultimate pack, but the date is real close to my VIP renewal date, so that makes my cost between here and Christmas $228, far more than I was ready for.
Luis
I totally agree with the all of the players that are saying loud and clear that the ultimate bundle is overpriced, comparing with other expansions.
I always have acquired the biggest bundle of each expansion, except this one, and I am disappointed with this situation. I want to support the game, as I always have done, but this bundle shucks, even if give me the impression that SSG is teasing us, which even enrage me further.
It Includes a lot of things without real value to players, because you will be able to obtained then latter with favor or with ddo points, (race, iconic, vistany tree,….). As you say it miss the real things players value the most which are ddo points or Ottos Boxes, or even enhancement to bank or reincarnation cache.
I don't really understand what is the sale strategy of the SSG, but it is clearly misunderstanding what their players wants. Their is one big maximum in sales, MARKET VALUE, which means customers must perceive the value of your product, which can be a competitive low price, a lot of features, unique features,… etc, and certainly you need to listen to your customer to see what they expect. None of this is in the ultimate bundle. Not to say that a pre-purchase, without even a preview of the expansion (so is a blind purchase from their customers), should be accompanied with an extra gift,…
In my opinion, SSG must change their sale strategy, if not they will continue to lose players and at the end they will close, but who knows maybe that is their strategy, stress their milky cow till starvation,…
ROKUGAN
I was really willing to buy the collector's bundle to support the game, but I'm not paying such a steep price for a bundle filled with cosmetics and shards. When I compare the Ravenloft 130$ edition with MotU´s collector´s edition (80$), it becomes very clear that it is a rip-off and a complete disappointment. I was expecting SSG as a new studio to take better care of its customers than Turbine/WB did in the past. Nope, it actually gets worse.
I´m not against cosmetics as accessories, but if the game wants to attract new players (greatly needed, player base is really low) the devs should focus on bringing great quality content to the game. Taking into account that this pack includes only 12 quests (1 week of new content, then repeat, repeat, repeat) and 1 raid (maybe 3 months of life if you can find an LFM), the price certainly looks super high. You can buy The Witcher 3 in Steam for 20$, including 200-350 Hours of the best RPG content you can possibly enjoy nowadays, with a technical level which is 2 light-years above DDO.
I love DDO because I freakin´ love D&D. This is not the turnaround we were hoping for from SSG. I want to support the game, but I don't want to pay for smoke.
Quijonn
Bought the Ultimate bundle after staring at a spreadsheet and trying to assess what the bundles were really worth to me (https://www.ddo.com/forums/showthread.php/490782-Ravenloft-value-calculator).
I decided to continue supporting the game as always, but I'm not impressed with the value of the ultimate bundle from a purely personal perspective.
Hopefully lessons can be learned for the next expansion 🙂
From The Dungeon
Dungeon Tiles Reincarnated Coming From WOTC
On The Table Top
http://ddoplayers.com/2017/10/28/renegade-game-studios-announce-castell/
On The Screen
New Studio Fantasy Flight Interactive Announced
Tales of Candlekeep: ToA Updates Pineleaf Video
Dresden Files released on Steam
Week in Gaming
Drac Week
Night Revels Key Farming and Dungeons. I need to do one more run to have enough for my Red Reaper Plate.
Ranger Lvl 7 With Pineleaf
Night Revels
Key hunting
Resurrection Chamber
House Deneith
Video Games
7 Days To Die
Permadeath Team Challenge
Pineleaf Week
Halfling Wizard 7 (with Drac)
Night Revels
Key hunting
Resurrection Chamber
House Deneith
Aasimar Artificer 1
Dragonborn Artificer Level 5
House Deneith Depths series (repeat)
Searing Heights landscape to reach level 6
Tabletop
Hero Realms – The Ruin of Thandar (first two encounters)
Video
Minecraft: Building a personal Nether Hub
LOTRO – Found a way to get a cliff without wings
Making good progress in Mordor
Donations
We currently have 23 supporters on Patreon. If you would like help support DDO Players, simply go to the donation page where you can support The Players Alliance on Patreon.   There you will find rewards including a mention on the podcast of your choice, or even guest for an episode on DDO Players News.
Feedback
iTunes Reviews
This week we did not receive any reviews but would love your support!
Featured Comments
This week we have no featured comments
Emails
James Writes Us,
Hi Pine and Drac,
As always, loving your podcast. Thank you!
Awhile back I was looking for a guild and happened upon Tyrs Paladium in Ghallanda. They seemed active and friendly. I applied and was accepted, so I actually transferred my characters to that server out of Orien because I couldn't find a guild there to join. The people in Tyrs Paladium and the Ghallanda server have been quite nice, but it seems like everyone is playing well beyond my play/skill level.
Listening to the two of you, it sounds like you may be playing in circles that I would fit into better. I play everything on Normal and i don't even have any characters who have TR'd yet, even though I've been a DDO player (on-and-off) for many years.
If I could be sure to find a server and guild with more players like me, I would actually consider paying again to move my characters. It really sucks to have to pay to move around just to find the right folks to hang with, but on Ghallanda I can just never seem to find any PUG or guild group that runs anything on Normal.
Hoping this time I'm looking in the right place for the right advice.
Thanks!
James
Hephaestas Also Wrote In,
Hey DDO Players!
Hephaestas here! (that's pronounced Hef-fes-tas – I've heard you butcher my name before Drac hehe)
Firstly LOVE your show, sorry I've never gotten to emailing you before – but Drac and Pineleaf, you guys do a great job and I love having your show in my podcast rotation!
I really enjoyed your interview show with Syp from MassivelyOP, but was VERY disheartened to hear about his guild finding and player troubles on Ghallanda! I am the senior officer of the smaller sized guild, Spellforce, on Ghallanda, and would have been more than happy to have Syp join our small rank of members! That said, I am with you on the fact that Ghallanda is kind of…being shadowed by the few really big, yet maybe hardcore, guilds, that are not perhaps always super friendly to returning or new players. On behalf of Ghallandians, I apologize for you! But never fear. There are still friendly guilds if you hang around long enough to see them 🙂
I hope Syp is having a great time playing DDO again though still, I will have to check out Battle Bards now, and GO ARTIFICERS!
Sincerely,
Hephaestas
Contact Us
Email us!
podcast@ddoplayers.com
Follow us on Twitter!
The Players Alliance @PlayersAlly
DDO Players @DDOPlayers
Draculetta @Draculetta_72
Pineleaf @PineleafNeedles
Follow Our Guest
Patrick – @ddocast         ddocast.com
Final Thoughts
The Players Alliance LIVE Shows
Mondays at 8:30 p.m. Eastern – DDO Players News
Saturdays at 8:30 p.m. Eastern – LOTRO Players News
Join Us For Our Live Shows! ddoplayers.com/live/