So, you want to take your games to the next level and really suck your players in? Need some new terrain to do just that? WizKids has you covered.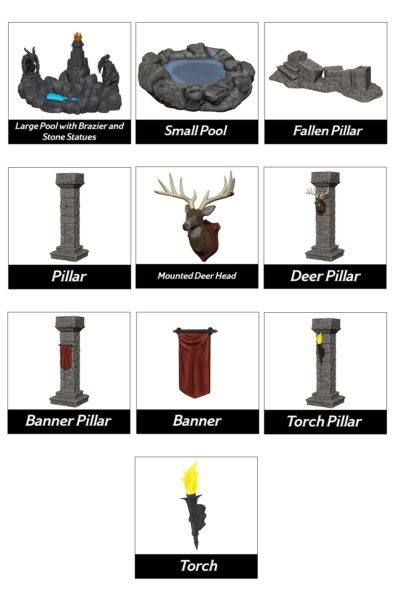 The Fantasy Terrain series offers pre-painted scale miniatures of common terrain elements. The first set is Painted Pools & Pillars Set 1 focuses on pools of water and a variety of pillars, along with a few other wall-mounted set pieces to round out a dungeon or castle hall.
The 24 sculpted pieces come fully assembled and fully painted, and many of them feature interchangeable pressure-fit accessories that allow players to customize the scene. This set includes 4 pillars, 1 fallen pillar, 3 small pools, and 1 large pool. Interchangeable accessories include 4 banners, 4 torches, 1 mounted deer head, 3 large pool rock pieces, 2 gargoyle statues, and 1 brazier. MSRP for the set will be $39.99.