If you were on the fence about picking up Sword Coast Legends, now is your last chance, the game is going away for good.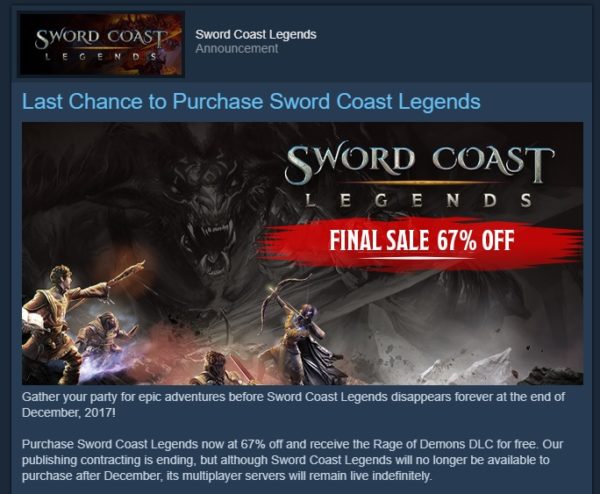 Sword Coast Legends will be removed from sale December 31st. Until then the game is available for 67% off.
Gather your party for epic adventures before Sword Coast Legends disappears forever at the end of December, 2017!

Purchase Sword Coast Legends now at 67% off and receive the Rage of Demons DLC for free. Our publishing contracting is ending, but although Sword Coast Legends will no longer be available to purchase after December, its multiplayer servers will remain live indefinitely.

Sales will also be available on the follow platforms for the following dates:
Steam – 67% off – December 11 to December 25

Sony America – 50% off – December 12 to December 26

Gamestop – 75% off – December 18 to December 28

GamersGate – 67% off – December 11 to December 31

Gamazavr – 66% off – December 12 to December 19

Microsoft – 60% off – December 19 to December 25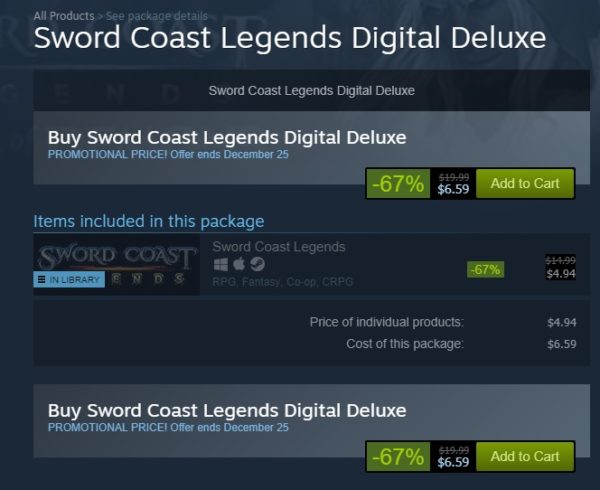 It's a shame, this game had so much potential, and just failed to live up the hype. The single player story is very good and well worth 6 bucks and some change in my opinion. Too bad the DM tools, did not deliver what was promised.