Readers of the site might know by now that there I love to share kickstarters, and I am big fan of Krampus, as I don't enjoy the christams holidays very much.  So this was a no-brainer to share with you all!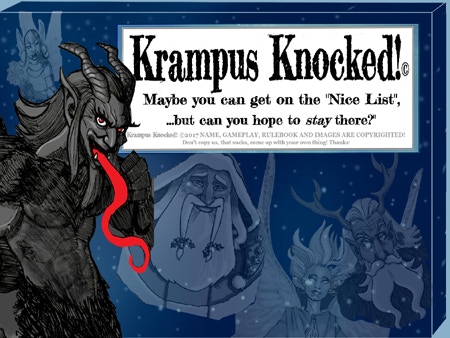 Krampus Knocked! © is a quick-paced card game of Mistletoe and Mischief for 2-6 players ages 6+.
The game has 72 illustrated cards.
Play generally lasts about 20 minutes.
Games can be won individually or you can add points from game to game.
Krampus Knocked! is an easy game to play with few rules and a quick set up!
To win you must stay on top of the "Nice List", which is laid out on the table using the player's character cards, and not get knocked off by another player or Krampus! The higher on the 'Nice List' you are at the end, the more points you score. Gift Givers from legend and lore will help you… if you have done enough "Good Deeds", which are fun and funny cards collected and played throughout the game, with different point values depending on the deed. "Shovel your neighbor's driveway" 2 points "Watch your friend's poodle… while it has a bladder issue." 4 points. "Help your mom with a computer issue over the phone." 5 points
But, BEWARE! Krampus loves to knock people off the list at any time! Can you out-smart Krampus stay on the "Nice List" or will you be KRAMPUS KNOCKED!
The game should be coming out October 2018, so you can terrorize your family then, until then head over to the kickstarter, which as of this posting has 21 days to go, they are setting at 13 % of the goal, which they have set at $7,500