Patrick from DDOCast joins us this week, we talk about Ravenloft, The Strahd Raid, Sentient Weapons, Festivult and more!
Audio Only Listen And Download Link
Podcast: Play in new window | Download (87.6MB)
YouTube Watch Links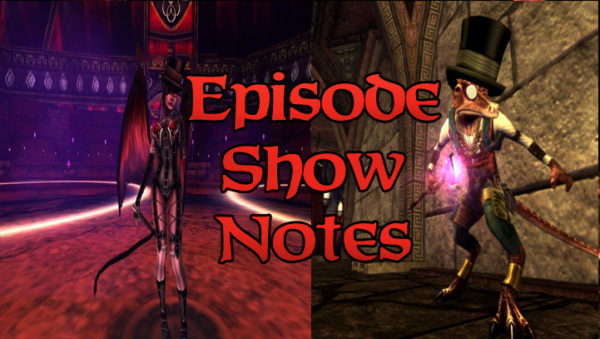 Game News
Curse Of Strahd Raid Bugged, Fix On The Way
Heroic Barovian Vendor NPC fix
Ravenloft First Thoughts
Store Sales
25% off:
Select Hearts of Wood
Healing Items
Spell Point Potions
Quest XP Elixirs
Free Sample Of The Week December 21st
Lasting Potion of Jumping (+20) with the Coupon Code JUMP, now through December 21st!
December Deals Week 3
75% off Veteran Status 2
50% off Demon Sands and Greater Learning Tomes
35% off select Cosmetic Headwear
New Shared Storage is now available! Get Shared Storage #19 in the DDO Store.
From The Dungeon
One Ring RPG Bundle Up On Bundle Of Holding
WizKids D&D Icons of the Realms: Classic Creatures Box Set Available Now
On The Table Top
The Wilds of Rhovanion Coming In A New Deluxe Expansion for The Lord of the Rings: the Card Game
Restoration Games Announce Expansion For Downforce
On The Screen
The Dark Crystal Heading Back To Theaters For 2 Nights Only
Last Chance to Purchase Sword Coast Legends
Week in Gaming
Drac Week
Ranger Lvl 13 With Pineleaf
Mists Of Ravenloft
Into the Mists
Death House
Fresh-baked Dreams
An Invitation to Dinner
Video Games
Tales From Candlekeep: Tomb Of Annihilation
Conan Exiles
Darkest Dungeons
7 Days To Die
Round 3 Of permadeath. We did random teams this team (people that spawned north and south) ended up with same teams
Pineleaf Week
Halfling Paladin Level 10
Mists of Ravenloft
Into the Mists
Death House
Human Druid Level 10
Mists of Ravenloft
Into the Mists
Death House
Fresh-baked Dreams
An Invitation to Dinner (Could not find the Icon of Ravenloft in the North Tower)
Minecraft
Found a spider spawner near the earth temple, which I converted into a string farm.
My goal with this is to get enough wool for banners to decorate the temple.
My goal is to finish the temple within the next week.
Patrick Week
Ravenloft Flagging
Raid A Few Times
7 Days To Die
Perma Death Round 3
Donations
We currently have 19 supporters on Patreon. If you would like help support DDO Players, simply go to the donation page where you can support The Players Alliance on Patreon.   There you will find rewards including a mention on the podcast of your choice, or even guest for an episode on DDO Players News.
Feedback
iTunes Reviews
This week we did not receive any reviews but would love your support!
Featured Comments
We Don't Have Any Comments This Week
Emails
This week we have no emails.
Contact Us
Email us!
podcast@ddoplayers.com
Follow us on Twitter!
The Players Alliance @PlayersAlly
DDO Players @DDOPlayers
Draculetta @Draculetta_72
Pineleaf @PineleafNeedles
Follow Our Guest
Final Thoughts
The Players Alliance LIVE Shows
Mondays at 8:30 p.m. Eastern – DDO Players News
Saturdays at 8:30 p.m. Eastern – LOTRO Players News
Join Us For Our Live Shows! ddoplayers.com/live/