It's our annual year-end review and resolutions show!
Audio Only Listen And Download Link
Podcast: Play in new window | Download (70.5MB)
YouTube Watch Links
__________________________________________________________________________________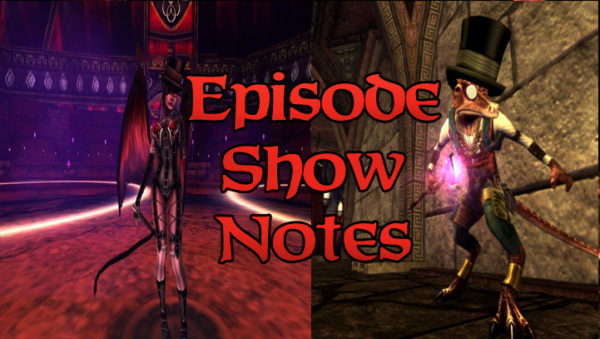 Game News

Store Sales
30% Off
Tomes of Learning
Select Low-Level Adventures
+2 Ability Tomes
Character Slots
December Deals Week 5! Now through January 4th
75% off all Necropolis Adventure Packs
50% off all +2 Tomes of Fate and Character Inventory
35% off Dragonborn
Free Sample Of The Week Now through January 4th!
Omnispell Dust x50 with the Coupon Code SPELLDUST
DDO Year In Review
Update 34: Death or Glory, published on Thursday, February 2nd, 2017
Tower Of Frost Quest
Reaper Difficulty
Reaper Difficulty offers a new challenge for the toughest adventurers! Reaper difficulty can be selected from the quest portal UI for many quests and raids throughout the game. When you select Reaper difficulty, there is also a drop-down list of between one and ten Skulls, which affects quest/raid difficulty and reward. Special Reaper Bonuses can be found on items acquired in Reaper Difficulty, there is an increased chance to get named items, and you'll earn Reaper Experience. Reaper XP will award a Reaper Point at certain thresholds that can be spent on abilities in a special Reaper benefit tree, among other things! Warning: Reaper difficulty is meant for players who enjoy a serious challenge. You have been warned!
Update 35: Dawn of the Dragonborn, released on Thursday, March 16th, 2017
Dragonborn
The Newcomers and Black and Blue
Raid: Riding the Storm Out
Racial Reincarnation
Reincarnation has now expanded! Get Racial Past Life Feats when you reincarnate to add additional flavor and customization to your vault of heroes. Want to get started? Find the Heroic Heart of Blood, available now in the DDO Store and via Tokens of the Twelve in-game.
Update 36: Duel for the Underdark. July 12, 2017
The Mines of Tethyamar
Third Time's a Charm
Graveyard Shift
Records of the Past
Strike Back
Desire in the Dark
Update 37: Mists of Ravenloft, released on Wednesday, December 6th
The Mists of Ravenloft
Intro quest
Into the Mists
In the Shadow of the Castle
Death House
Fresh-baked Dreams
An Invitation to Dinner
The Vampire Hunters
Oath of Vengeance
A Raven at the Door
A Mad Tea Party
Sealed in Amber
The Light of the Land
The Final Vintage
Wrath of the Earth
Ravens' Bane
Sunrise
Raids
The Curse of Strahd
Old Baba's Hut
The Land of Barovia Wilderness Area
Sentient Weapons
Sentient Weapons allow players the opportunity to discover weapons with their own personality and customize their powers! See more information about Sentient Weapons in the News and Notes below, and find Sentient Jewels and more in the Mists of Ravenloft expansion.
Veteran Status Level 10
Veteran Status Level 10 is now available as a limited-duration event. When the event is active, players will be able to create characters and begin their adventure at level 10 with updated gear, a limited-duration level 10 hireling cleric
Favor
In Mists of Ravenloft, there are three tiers of Keepers of the Feather Favor:
Tier 1 is granted at 60 Favor and grants Blessings of a Feather Feat.
Tier 2 is granted at 120 Favor and provides a Small Augment Bag.
Tier 3 is granted at 180 Favor and provides access to the Vistani Knife Fighter universal enhancement tree on a per-character basis. Once unlocked for a character, the availability of the enhancement tree persists through reincarnation.
New races:
Heroic Aasimar
Iconic Aasimar Scourge
Which update was the best update of 2017?
Pineleaf – Update 37: Mists of Ravenloft
Drac –  Update 37: Mists of Ravenloft (Did you think I'd answer any other way!)
What is the best Non Raid/Quest Thing Added To DDO IN 2017?
Pineleaf- Dragonborn race
Drac- Reaper Difficulty
What are you most looking forward to with DDO in 2018?
We will talk about after the producers letter!
Our DDO Resolutions
How Did We Do From Last Year?
Pineleaf- Monk to Lvl 20, Something Ravenloft Maybe (depending on timing of release etc.)
Drac- Get ANY character I have to 28, to run Haunted Halls!, Play my WolfLock more on Argo!
This Year Resolutions
Pineleaf – Aasimar to level 15 (no Veteran status allowed)
Drac – Get ANY character to 28, Run Haunted Halls, Run Strahd Raid…
From The Dungeon
On The Table Top
River Horse Games Bringing Highlander Board Game
On The Screen
World Health Organization Will Add "Gaming Addiction" To Mental Health Disease List
Week in Gaming
Drac Week
Druid Lvl 10 (Soon To Be WolfLock) At 20 will be Dragon-Wolf-Lock
Mists Of Ravenloft
Into the Mists
Death House
Fresh-baked Dreams
An Invitation to Dinner
Ranger Lvl 10 With Pineleaf
Mists Of Ravenloft
A Raven at the Door (L11 Quest)
Mad Tea Party
Dungeons & Dragons 5E
Tyrant of Zhentil Keep – A 5E Solo Gamebook
Tabletop
Houdini's Poutini
One Deck Dungeon
Hotshots
Tomb Of Annihilation
Stop Thief
Video Games
7 Days To Die Permadeath Challenge
Survive The Night
Pineleaf Week
Human Druid 10 (with Drac)
Mists of Ravenloft
A Raven at the Door (L11 Quest)
Mad Tea Party
Halfling Paladin 10
The Newcomers (unable to get past the shooting puzzle room)
Minecraft
Started level 2 of the Dungeon.
Started with the corridor that connects the air, fire, and water temples together.
Minecraft Hardcore Challenge for January – moving a village to the Nether
Other Games
One Deck Dungeon Forest of Shadows – started a campaign at Standard difficulty.
Ran two games and won the second.
Now it's time to head to a tougher dungeon and boss.
Donations
We currently have 19 supporters on Patreon. If you would like help support DDO Players, simply go to the donation page where you can support The Players Alliance on Patreon.   There you will find rewards including a mention on the podcast of your choice, or even guest for an episode on DDO Players News.
Feedback
iTunes Reviews
This week we did not receive any reviews but would love your support!
Featured Comments
This week we have no featured comments
Emails
This week we have no emails.
Contact Us
Email us!
podcast@ddoplayers.com
Follow us on Twitter!
The Players Alliance @PlayersAlly
DDO Players @DDOPlayers
Draculetta @Draculetta_72
Pineleaf @PineleafNeedles
Final Thoughts
The Players Alliance LIVE Shows
Mondays at 8:30 p.m. Eastern – DDO Players News
Saturdays at 8:30 p.m. Eastern – LOTRO Players News
Join Us For Our Live Shows! ddoplayers.com/live/