On this show week, we talk about the chronicles and Pineleaf lays out his insane 12 x 12 challenge!
Audio Only Listen And Download Link
Podcast: Play in new window | Download (31.3MB)
YouTube Watch Links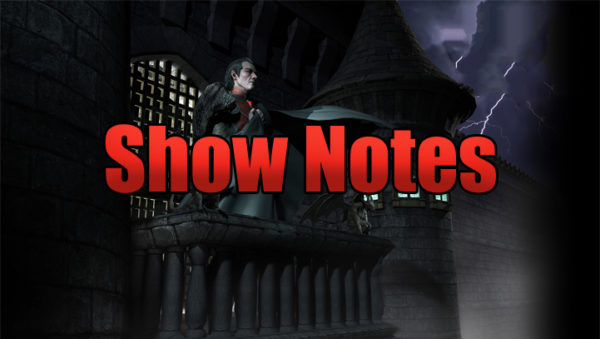 Game News
Store Sales
20% off:
Select Adventure Packs
Monster Manuals
Attack Spell Items
Free Sample Of The Week
Lesser Slayer Count Boost x1 with the Coupon Code SLAYER
From The Dungeon
WOTC Has BIG Plans For D&D, Magic & Avalon Hill
Week in Gaming
Drac Week
Ranger Lvl 13 With Pineleaf
Mists Of Ravenloft
Sealed in Amber
The Final Vintage
Pineleaf Week
Human Druid 10 (with Drac)
Mists of Ravenloft
Sealed in Amber
The Final Vintage
Aasimar Favored Soul 1-3
Korthos
The Grotto
Heyton's Rest
The Cannith Crystal
The Storehouse's Secret
The Collaborator (Reached level 2)
Redemption – Barely won and studied how to heal NPCs after this
Necromancer's Doom
Stopping the Sahuagin
Sacrifices
Misery's Peak
Completed 200 kills, all rares, and all exploration points (reached level 3)
Harbor
Bringing the Light
The Miller's Debt
Arachnophobia
An Explosive Situation
Information in Key
Durk's Got a Secret
Walk the Butcher's Path
Garrison's Missing Pack
The Smuggler's Warehouse
A Man Named Baudry Cartamon

Protect Baudry's Interests
Stop Hazadill's Shipment
Retrieve the Stolen Goods

The Cerulean Hills

Where There's Smoke…
The Captives (reached level 4)

A little study in Cannith Crafting (but only baby steps)
Purchased something at a broker
Halfling Paladin 10
Mists of Ravenloft
Sands of Menechtarun
Tomb of the Physician (Reached level 11)
Mists of Ravenloft
Minecraft
Built the inner part of the water temple
Tabletop
Pandemic Legacy, Season 2 – January game
12×12 challenge
Donations
We currently have 19 supporters on Patreon. If you would like help support DDO Players, simply go to the donation page where you can support The Players Alliance on Patreon.   There you will find rewards including a mention on the podcast of your choice, or even guest for an episode on DDO Players News.
Feedback
iTunes Reviews
This week we did not receive any reviews but would love your support!
Featured Comments
This week we have no featured comments
Emails
This week we have no emails.
Contact Us
Email us!
podcast@ddoplayers.com
Follow us on Twitter!
The Players Alliance @PlayersAlly
DDO Players @DDOPlayers
Draculetta @Draculetta_72
Pineleaf @PineleafNeedles
Final Thoughts
The Players Alliance LIVE Shows
Mondays at 8:30 p.m. Eastern – DDO Players News
Saturdays at 8:30 p.m. Eastern – LOTRO Players News
Join Us For Our Live Shows! ddoplayers.com/live/