If you're looking for a new RPG to play and also want a pretty sweet looking box to house it in? Then I've got just want you have been looking for my friends!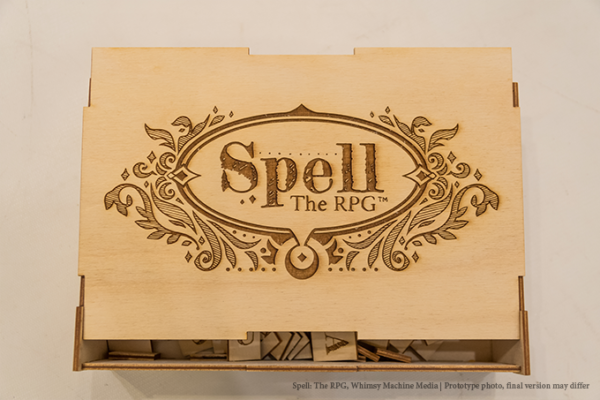 As part of  Kickstarter's Make/100 month, Taylor Smith is creating one hundred wooden boxes with laser engraved tops. Each box will be signed and numbered.
Included in each box is a perfect bound copy of the 48pg Spell: The RPG rulebook, 88pg perfect bound Spellbook Vol. 1, a set of 108 wooden letter tiles for playing the game, 12 wooden six-sided dice, and a cloth drawstring bag. This unique collector's set is only available through this Kickstarter campaign!
The Collector's Chest is a 6.5" x 9.5" birch ply wooden box with laser engraved lid and contains 108 laser engraved ¾" x 1" x ⅛" wooden tiles, twelve 16mm wooden six-sided dice, a cloth drawstring bag, and the above 6" x 9" perfect bound books, Spell: The RPG and Spellbook Vol. 1.
Spell: The RPG is a complete, original tabletop roleplaying game that makes use of six-sided dice and letter tiles. Players roll dice to complete tasks using their character's Impulses—twelve basic stats that describe a character's motivations to act. Players can also draw random letter tiles in order to spell out magic for their characters to cast. This unique system balances creativity and potential with fair and streamlined mechanics.
Spellbook Vol. 1 is a collection of five campaign stories. Each chapter presents a unique plot and setting that can be played as an ongoing campaign or a single session with the option of continuing.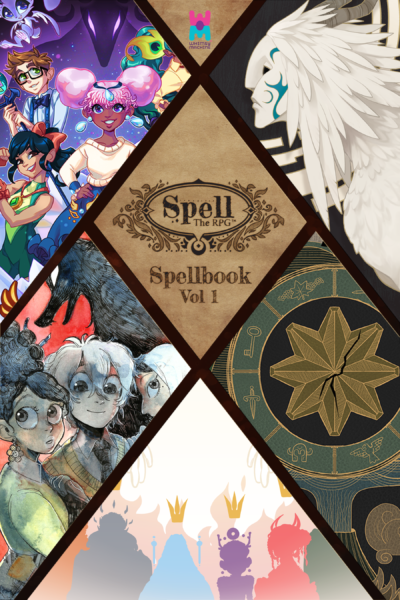 The project is up and running now on Kickstarter with (As of this posting) 35 days to go. They have met there funding, and there are still some $100 pledge levels left, that will include the wooden box.