We talk the producer's letter, The New D&D 5E Book Mordenkainen's Tome of Foes and Monopoly Cheaters Edition
Audio Only Listen And Download Link
Podcast: Play in new window | Download (65.0MB)
YouTube Watch Links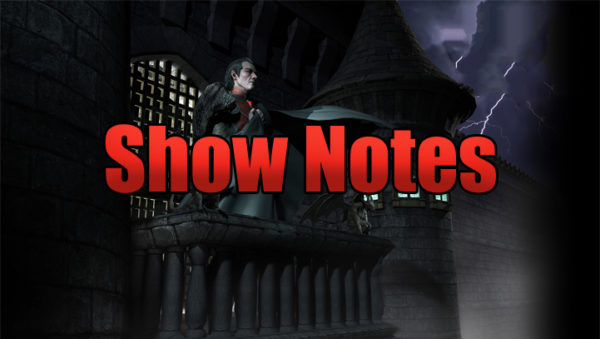 Game News
DDO Producer's Letter January 2018
Store Sales
20% off Now – February 8th:
Reincarnations
Healing Items
Spell Point Potions
Quest Elixirs
Free Sample Of The Week Now – February 8th
Ski Lift Hot Cocoa x10 and Eveningstar Hot Cider x10 with the Coupon Code WINTERFUN
BONUS COUPON:
Get a free Midwinter Spirit Token with the Coupon Code TOKEN, now through February 7th!
DDO Players News
DDO Players News Special January 2018 Producer's Letter
DDO Players Poll – 'What Are You Most Excited About Talked About In The Producer's Letter"
A Look Back At S2 – White Plume Mountain
From The Dungeon
New D&D 5E Book Mordenkainen's Tome of Foes Coming In May
Rivendell Region Guide Coming For Adventures In Middle-earth
On The Table Top
Monopoly "Cheaters" Edition Coming This Fall From Hasbro
On The Screen
In Search Of… Coming Back To TV
Week in Gaming
Drac Week
Ranger LVL 10
House Jorasco *ELITE*
Delera's Tomb story arc
The Mystery of Delera's Tomb
The Missing Party
Free Delera
House Phiarlan/Tangleroot
Doom of the Witch-doctor
The Last Move
Caged Trolls
Purge the Heretics
Pineleaf Week
Aasimar Favored Soul 5-6
Harbour
The Kobolds' Den: Clan Gnashtooth and Rescuing Arlos (Reached level 6)
Recovering the Lost Tome
Irestone Inlet (Gained my fourth bag)
House Phiarlan/Tangleroot
Doom of the Witch-doctor (with Drac)
The Last Move (with Drac)
Caged Trolls (with Drac)
Purge the Heretics (with Drac)
Minecraft
Building the Hall of the Triumphant Pine (decided to make it a ballroom)
Tabletop
Aeon's End – Malastar vs Rageborne then Carapace Queen (getting beaten)
Friday (the game shows that I am still not yet the master)
Castle Ravenloft – Found the Icon of Ravenloft
One Deck Dungeon: Forest of Shadows – defeated the Mud Golem with the hunter.
Donations
We currently have 18 supporters on Patreon. If you would like help support DDO Players, simply go to the donation page where you can support The Players Alliance on Patreon.   There you will find rewards including a mention on the podcast of your choice, or even guest for an episode on DDO Players News.
Feedback
iTunes Reviews
This week we did not receive any reviews but would love your support!
Featured Comments
Musky Elon Via YouTube On DDO Players News Special January 2018 Producer's Letter
I would like to see more 17-20 quests. Upper range heroics.
Emails
This week we have no emails.
Contact Us
Email us!
podcast@ddoplayers.com
Follow us on Twitter!
The Players Alliance @PlayersAlly
DDO Players @DDOPlayers
Draculetta @Draculetta_72
Pineleaf @PineleafNeedles
Final Thoughts
The Players Alliance LIVE Shows
Mondays at 8:30 p.m. Eastern – DDO Players News
Saturdays at 8:30 p.m. Eastern – LOTRO Players News
Every Other Thursday at 9:30 pm Eastern – XPQuest
And our Brand new show!
The First Tuesday Of Every Month at 8:30 pm EST Chromaticbits A new pre-recorded Video Game Music Podcast! (Will air on Mixlr then release as podcast version)
Join Us For Our Live Shows! ddoplayers.com/live/